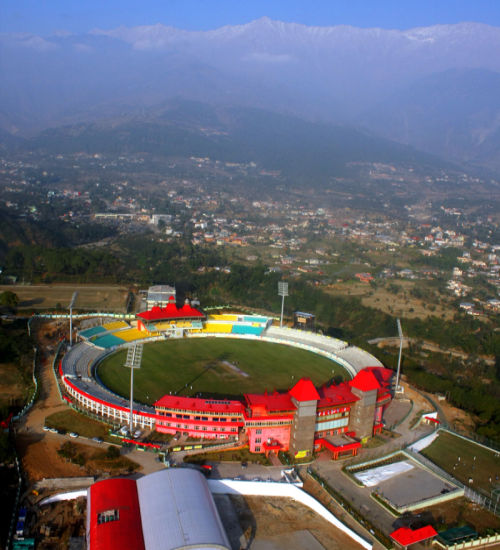 (Arvind Sharma) With immense chill in the air, picturesque Dharamsala is all set to host the fifth, and it's first, One Day International (ODI) between India and England. Himachal Pradesh Cricket Association has left no stone unturned for the match and have worked on every little detail for it, both in and off the field.
Earlier, it was expected that bad weather could play spoil sport in the first international to be played at the Dharamsala Cricket ground, but the sun is shining bright and warm here. And the heavily snow clad Dhouladhar range in the backdrop of the ground will add to the players joy.
Dharamsala is presently recording a day-time temperatures of around 15 degree Celsius, and the mercury is expected to climb to 19 degree till the match day (according to weather forecast), which should be ideal for great game of cricket.
Dharamsala Cricket ground says, 'bring it on'!

This hill station Located in the foothills of the Himalayas, 1317 meters above sea level, has never before hosted an international match (official), but shall have one on January 27 despite being deep in the winter season. Last year in the month January Dharamsala had a heavy snow fall. Even the cricket stadium was under thick blanket of snow, but it is not expected this year.
The organizers remain "hopeful" of getting a full 50-over contest in for the ground's first international. "We are set for the match. Only last-minute preparations are left and we are confident there will be no interruptions," said HPCA secretary, Vishal Marwaha. Marwaha said the hill station had been getting a fair bit of sunshine, and that should better the conditions for cricket. Unlike other matches in this series, which started at noon, the Dharamsala game will start at 9am, to help the players escape the late evening cold.
Having already hosted a first-class game involving Pakistan in 2005, the Himachal Pradesh Cricket Association Stadium has hosted IPL matches over the past couple of years, serving as the second home for the Kings XI Punjab franchise. It was the IPL experience that convinced the association that they were capable of hosting international games. As a result, Dharamsala will get on the international map on January 27. The people who have made the dream become a reality, and the fans who have readied themselves for a taste of international cricket, will desperately be hoping that the poor weather elements don't have the final say.
Bulks of Tickets have already been sold out. Chief Minister Himachal Pradesh Virbhadra Singh is expected to be the chief guest; all the 67 members of Himachal assembly are invited to watch this First ODI of the state. Being the last match of the England's series, the venue has become the most important as all the prize giving formalities shall be performed here, so as top BCCI officials shall also gather in the city.