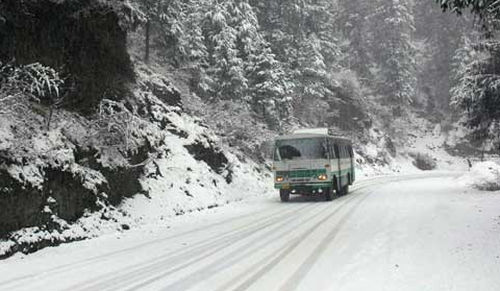 In hilly State of Himachal Pradesh where geographical constraints often impede the pace of development, means of transport play a very important role in percolating benefits of welfare schemes and programmes to the people. Road transport is the only source of connecting people and Himachal Road Transport Corporation (HRTC) is providing best of the services through its dedicated employees and fleet of buses.
The State Road Transport Corporation is making every possible effort to connect even the remotest parts of the State. At present, it has around 2100 buses plying on almost 2850 routes both inside and out of the State. The Corporation is acquiring 500 new buses to strengthen its fleet so that better services could be provided to the people thereby fulfilling its social obligations and responsibility. As many as 800 more buses have also been sanctioned for the State under Jawaharlal Nehru National Urban Renewal Mission (JNNURM).
The Corporation has started numerous schemes for its daily commuters. With the arrival of new fleet of buses, corporation has introduced a special bus service in Shimla city wherein passengers have to pay just rupees five as fare from the place of boarding till its destination. Besides, another bus service was being plied by HRTC from Shimla to Solan with only Rs. 40 as one way fare. Corporation would increase the number of buses and their frequency under these schemes with the passage of time.
A decision has been taken recently by the government to reserve 40 percent seats for women, senior citizens, patients' sufferings from Cancer and physically disabled persons in ordinary buses of HRTC and private buses plying within the radius of 50 kilometres. To make the journey of these groups hassle free, seats on the left side in the buses would be earmarked and private bus operators as well as employees of the corporation would be asked to adhere to the same.
Besides, HRTC is also providing free travelling facility to Gallantry Award winners in ordinary and deluxe buses of corporation with in the state. Free travelling facility is also being provided to HRTC staff and retirees in ordinary buses of the corporation up to the operational jurisdiction of corporation.
Students of all government schools in the state are being provided free travelling facility in ordinary buses of corporation for going and coming back from school and for better services, more buses would be made available for the school going children.
Corporation has also introduced a new 'Green Card' scheme for passengers travelling in its buses. Under the scheme Green Card holders are entitled to avail 30 percent discount in fare if they travel for more than 40 kilometres and less than 60 kilometres. This scheme would benefit thousands of those commuters who daily travel less than 60 kilometres in these buses. The validity of Yellow and Smart Cards have been extended from one to five years so that people do not have to come every year for their renewal.
To promote maximum use of Information Technology, the Corporation is providing five percent discount in fares to those passengers who book their tickets online at least five days before journey period. Online reservation is available for all types of buses of corporation. HRTC is the second transport undertaking in the country that started online booking facility for passengers. Corporation has also reduced the service tax on e-ticketing from 2.5 to 1.5 percent. It has also been decided to provide five percent commission to those tour and travel operators who would give bulk bookings to deluxe fleet of the corporation.
To redress the complaints of commuters, the corporation has also started a Help Line number 0177-2657326.
With the consistent efforts of all the stakeholders of the corporation, the revenue has increased by more than 10 percent in last 11 months. New software has been implemented to monitor route and general functioning of the corporation and four committees have been formed to review such routes which are in loss and to check overlapping of routes.
The Government is committed to reach to the farthest and remote corner of the State to facilitate the people to avail benefit of corporation buses, besides Chief Minister Virbhadra Singh has directed HRTC to provide qualitative, timely and better services throughout the State.