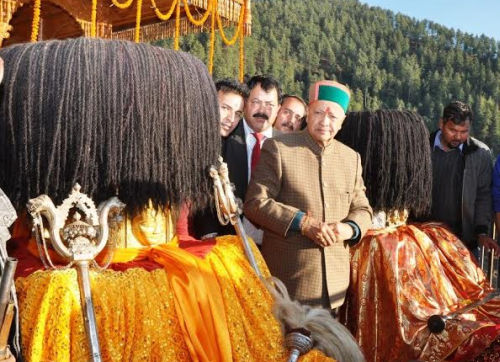 Chief Minister Virbhadra Singh said that the State Government was taking effective steps for renovation and proper maintenance of the historic temples of the State. The grant-in-aid of the temples had also been enhanced and adequate funds were being provided for renovation of old temples built in ancient architecture.
He said it after performing pooja and participating in religious ritual 'Yajna' organized by Bhagwan Narsingh Swami and Devta Yageshwar Temple Committee in Yageshwar Devta Temple at Shingla near Rampur in district Shimla today.
Chief Minister underlined the need to maintain the rich traditions and cultural heritage which reflects our uniqueness from rest of the world. He said that State Government was committed to preserve art and culture of the State and special programme would be started to train the youth in the folk-arts, craft and traditions.
Virbhadra Singh also inaugurated Government Senior Secondary School, Shingla which has been constructed at a cost of Rs. 2.76 crore. The foundation stone of this school was laid by him in November, 2005. He directed to arrange adequate furniture and construction of playground in the school. He also directed for barricading of the school premises.
Chief Parliamentary Secretary Nand Lal welcomed the Chief Minister and thanked him for speeding up the developmental works in Rampur area. Brij Lal, Chairman, Kailash Federation, Devender Shyam, Advisor, Marketing Board, T.G. Negi, Advisor to Chief Minister, Dinesh Malhotra, Deputy Commissioner, Abhishek Dullar, Superintendent of Police and other prominent persons were present on the occasion.