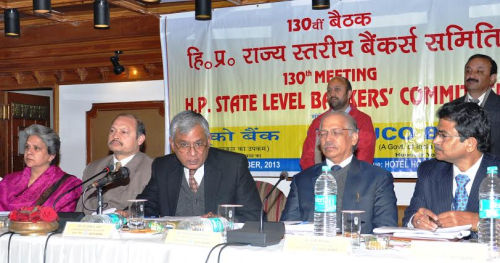 Shimla: In the 130th State Level Bankers Committee meeting here today organised by UCO Bank, acting Chief Secretary P. Mitra revealed that more than 20,000 Direct Benefit Transfers (BDT) transactions amounting to Rs. 17.47 crore has been successfully carried out in the State, where the benefit of the subsidy made directly to the bank accounts of the beneficiaries under DBTL programme.
Mitra hoped that by January, 2014 DBTL programme in the State would be rolled out comfortably as sufficient number of Aadhaar were seeded in the bank accounts of LPG consumers in 11 selected districts of the State, adding that it was a milestone achievement for Aadhaar penetration in the State.
He said that the State Government has liberalised the eligibility criteria under Skill Development Allowance Scheme for educated unemployed youth. Rs. 1000 per month to each eligible candidate and Rs. 1500 to youth having 50 per cent disability were being provided under the Scheme. Further educational qualification has been brought down to 8th standard in order to enlarge the scope of scheme, he added.
Mitra said that during the quarter ended on September 2013, 28 new branches have been added by the banks and based on the census 2011 data; the State has per branch population coverage of 4019 which was a good indicator of availability of banking services and one of the best averages in the country. He said that number of ATMs have also increased to 1056 as on September 2013 in the State.
S.Chandrashekharan, Executive Director UCO Bank said that the Banks have registered a new trend by achieving 22.46 % in the advances portfolio as compared to September, 2012 figures under which Priority Sector Advances constitutes about 68%. He said that total Deposits of the Banks has grown by 18.84% over the corresponding period of September, 2012. He said that position of NPAs of the Banks in the State has declined to 5.53 % of the total advances as of September, 2013 from 6.11% as of June, 2013 which reflects the sincere efforts being taken by banks in recovery.
Padma Raghunathan, Chief General Manager of NABARD said that Dairy Entrepreneur Scheme of NABARD has been re-started for the current financial year 2013-14 which was replica of Doodh Ganga Scheme, adding that Women beneficiaries were being given priority under the scheme.
Earlier General Manager and Convener UCO Bank Dr. S.K. Nandi while welcoming the participants said that Banks were committed for the socio- economic development of the State by extending whole hearted support to all Government sponsored programmes and DBT with special emphasis on Agriculture.
Principal Secretary Finance, Dr. Shrikant Baldi, Principal Secretary Rural Development Upma Chaudhary, Senior Officers of the State Government, and representatives of various banks were present in the meeting.