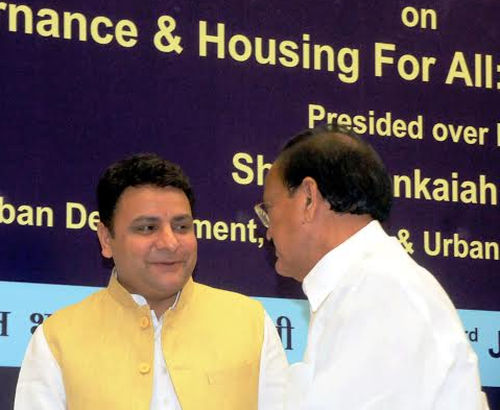 At the conclave of Ministers in New Delhi, Urban Development Minister Sudhir Sharma raised the issue dwelling unit cost under Rajiv Awas Yojna (RAY) and urged the Central Government to enhance it from Rs. five lakh to Rs. eight lakh so as to meet the excessive cost of site development.
Union Urban Development Minister Venkaiah Naidu presided over the conclave.
Sudhir Sharma said that due to hill topography and difficult terrain, construction in Himachal is costlier than plain areas. He said that increase in amount under Rajiv Awas Yojna would benefit the eligible persons in the State. He also urged the Central Government to grant two additional years for completion of various developmental projects in the State.
Sudhir Sharma also requested the Central Government to extend the coverage under National Urban Livelihood Mission and Rajiv Awas Yojna to all urban local bodies. At present, these projects are being implemented at the towns of district headquarters. He also urged for making special provisions for institutional strengthening in all developmental grants. He said that panel of consultants must be finalized at Central Government level for detailed project reports preparation and feasibility study etc.
Urban Development Minister said that many developmental projects in the State could not be completed on time due to clearances related to Forest Conservation Act. He requested that clearances under the Act should be provided at the earliest and relaxation may be given to the State under the Act keeping in view its tough hilly terrain.
Sharma also requested the Union Government to provide funds to the Himachal on 90:10 pattern on the analogy of North-Eastern States, which has been reduced to 80:20 pattern.
He said that standard technology for alternative mode of transport and solid waste management should be identified at Government of India level so that these projects may be completed in stipulated time alongwith quality in their implementation. He requested that bilateral cooperation between Central Government and other countries should be extended to various States and States should be free to enter into Memorandum of Agreement at their own level within the ambit of Memorandum of Agreement of Central Government.
Sudhir Sharma said that at present most crucial areas of urban management such as public convenience, parking and municipal parks are not being covered under Jawaharlal Nehru National Urban Renewal Mission (JNNURM). He urged Government of India to include these areas for funding under next phase of JNNURM, keeping in view the importance of these sectors under Public Private Partnership (PPP) for a hilly State like Himachal Pradesh.
Sudhir Sharma said that poverty alleviation in urban areas, housing facility for poor people residing in urban areas, self employment avenues for urban youth, water supply, sewerage and solid waste management are major thrust areas for Himachal Pradesh. He urged the Central Government to provide liberal financial assistance under various projects for these areas. He also requested for capacity building and skill development of departmental officials and elected representatives of urban local bodies.