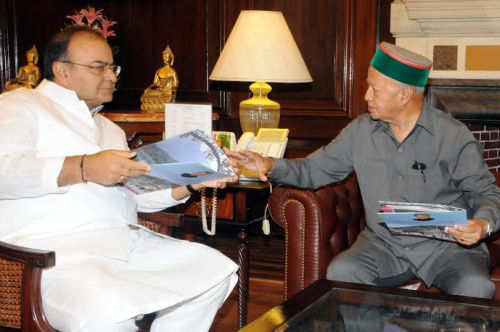 New Delhi: Chief Minister Virbhadra Singh today met Union Finance Minister Arun Jaitley at New Delhi and raised various issues pertaining to the growth and development of the State.
Singh apprised the Finance Minister of tough geographical conditions of the state and demanded special assistance and incentives for speedy development of the hill state.
He demanded that Bilaspur-Leh via Manali, Joginder Nagar- Pathankot and Bhanupalli-Bilaspur-Beri line should be declared as national projects keeping in view their strategic importance.
Chief Minister urged the Finance Minister to revive special industrial package to Himachal Pradesh as it was necessary to accelerate the pace of development in the state. "Income Tax, Central Excise Duty exemption to industrial units should be at least provided, upto 2020", said Virbhadra Singh.
Virbhadra Singh requested uniform funding pattern for all central sponsored schemes, especially S.S.A., Mid-Day Meal, Indira Awas Yojana, National Ambulance Service and other small schemes adding that as a special category state, it should be on 90 % Centre and 10 % state share basis.
The Chief Minister also highlighted the importance of extension of railway network in the state. He requested the Union Minister to release arrear for the damages caused by heavy rains in year 2013 amounting to Rs.144.36 crore at the earliest. Out of Rs. 240 crore approved by the Centre Government only 95.40 crores were released to the State Government whereas the damage to public property on account of natural calamities was assessed at Rs. 2575 crores.
The Finance Minister assured all kind of assistance for development of the State.