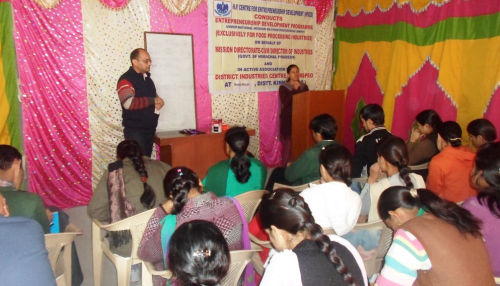 Bhabanagar: In order to educate and motivate the farmers, prospective entrepreneurs and unemployed youth to establish food processing industries, Ministry of Food Processing Industries (MFPI) – Government of India has launched a National Mission on Food Processing. Under this mission, Entrepreneurship Development Programmes (EDPs) are being organised throughout the country in association with state governments of respective states.
In Himachal Pradesh, H.P. Centre For Entrepreneurship Development (HPCED), which is a Training & Development organisation run & managed by Himachal Government's Directorate of Industries, is conducting such EDPs across the state.
Currently, an EDP is going on in the tribal district of Kinnaur at Bhaba Nagar, which is benefitting the progressive farmers and unemployed youth of the tribal area.
During the week ending on 9th November, an experienced Trainer of Entrepreneurship and Management Expert from Solan – Uday Mittal, trained the participants with management and business skills. Uday Mittal is associated with HPCED since 2009 and has been rendering his services for Entrepreneurship Development Programmes across the state.