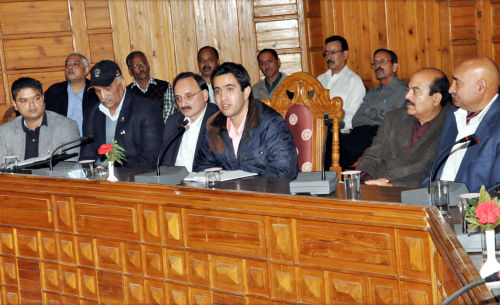 Shimla: Vikramaditya Singh has been unanimously elected as new President of the Himachal Pradesh State Rifle Association. The elections were held here today in the general body meeting of the Association in which the members unanimously elected the governing body.
Surat Singh Thakur has been elected as Senior Vice President, Rajesh Parmar, Vikrant Singh Rana and Rajeev Sehgal as Vice Presidents, Ishwar Rohal as General Secretary, Rana Vijay Singh as Chief Advisor, Manish Giri as Joint Secretary and Rajeev Sood as Treasurer besides six members of the governing council from different districts.
Presiding over the meeting, Vikramaditya Singh thanked the members for vesting him the opportunity to lead the State Rifle Association. He said that he would work hard to carry forward the achievements of the Association with the cooperation of the members.
He said the main focus of the Association was to bring forward the sports person and provide them better opportunities to excel in their field. He said efforts were on to establish an international level shooting range in the State for which site had been identified near Ghanahati in Shimla district. It would facilitate the shooters of the State in better preparation for the national and international events. Besides, efforts would be made to establish 10-25 meters shooting range in every district. He said an indoor shooting range had been completed at Indira Gandhi Sports Complex, Shimla which would be inaugurated soon.
Vikramaditya Singh said State Rifle Association was a non-political body which was working with a motive to promote shooters of the State keeping aside the vested interests. He said that the State had a lot of talented shooters who had been performing well in national and international events. The Association would provide them best equipments and other facilities for which the assistance of State Government and Government of India would be sought. He expressed hope that with the active support of the governing body and members the Association would succeed in promoting the shooting game in the State.
He said that the matter had already been taken with the State Government and Himachal Pradesh University to include shooting game under Sports Quota for admission in the higher educational institutes. Besides, efforts would be made to enhance the reservation percentage in the government jobs especially in police department for the sports persons.
The governing body and members of the Association congratulated Vikramaditya Singh for taking over as President. They expressed hope that he would take the Association to new heights as he himself was a national level shooter.
Harsh Mahajan, Chairman, State Cooperative Bank, who is also Life Member of the Association, Deputy Commissioner Dinesh Malhotra, members and life members of the Association were present in the meeting.