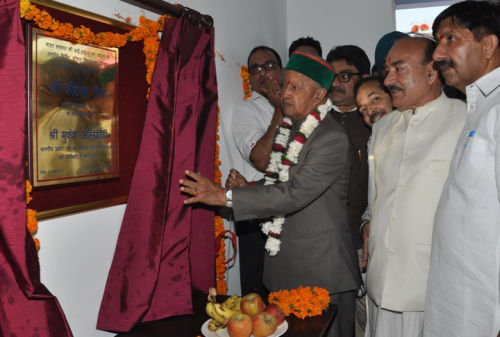 Chief Minister Virbhadra Singh said that providing better health, education and road facilities in the rural and far-flung areas was being accorded special priority by the State Government. He was presiding over the closing ceremony of the 15th Rajmata Shanti Devi National Volleyball Tournament organised by the Nirmand Volleyball Association under the aegis of H.P Sports, Culture and Environment Association at Nirmand in Kullu district, today.
Virbhadra Singh announced to upgrade CHC, Nirmand into 50 bedded hospital being constructed at a cost of Rs. 233.28 lakh. He announced to upgrade Randal and Ladagi (Muchhair) Government High Schools to Senior Secondary Schools and Averi Primary School to Middle School and to open Government Primary School at Shanu in Arsu Gram Panchayat adding that helipad would also be constructed at a suitable place at Nirmand.
He said that the building of PHC Dagresh was being constructed by spending Rs. 102.49 lakh and ITI building would also be constructed at Nirmand. A modern sports stadium was also coming up at Nirmand for which Rs. 113.19 lakh were being spent. He also announced sewerage scheme for Bro and Jagatkhana adding that Government would consider giving Nagar Panchayat status to Nirmand if any such proposal was sent to the Government.
Chief Minister said 52 gram panchayats of Ani constituency had been connected with road facility while remaining six panchayats would be connected in next two-three years. He said that out of 120 villages, 83 had been connected with the road facility and rest villages would be connected soon, Singh promised.
He announced to dedicate a 126 meter long span bridge being constructed at Moien over Satluj River by the end of December this year. He said a provision of Rs. 1977.85 lakh had been made for Public Works Department during this financial year for Ani constituency. He said detailed project report to the tune of Rs. 28.22 crore had been prepared for augmentation of various water supply schemes of left bank of Kurpan khad in Nirmand block.
Earlier, Chief Minister laid foundation stones of Nirmand Beautification Scheme costing Rs. three crore and Bus stand costing Rs. 2.3 crore. The Chief Minister honoured three eminent personalities with Rajmata Shanti Devi Himachal Gaurav Puraskar on the occasion for outstanding contribution in their respective fields. The Awards were given to Prof. A.D.N. Bajpai, the Vice Chancellor of H.P University for education, Dr. Shashi Bhushan, a senior journalist for journalism and Maan Singh Thakur for social service.
He appreciated the efforts of Nirmand Volleyball Association for organizing this event at Nirmand since last fifteen years. Chief Minister gave away the prizes to the winner teams. HSIDC Haryana won the trophy and was given cash prize of Rs. 51,000. The runner up Haryana Police was given cash prize of Rs. 31,000.
Member of Parliament Pratibha Singh congratulated Nirmand Volleyball Association for successfully organizing the tournament. She said the State Government was ensuring equal and balanced development of the State and the pace of development had been accelerated. She urged the people to take maximum benefits of the Schemes of the State and Central Governments. She announced to give Rs. five lakh for construction of Sarahan to Bhathad road via Bashleu in Kullu-Baga area.
Chief Parliamentary Secretary Nand Lal thanked the Chief Minister for giving special attention for the development of rural and far flung areas. Local MLA Khoob Ram thanked the Chief Minister for ensuring the speedy development of Aani constituency. He also urged for setting up 60 KV Sub Station and construction of Devdhank link road.
Kullu District Congress President Budhi Singh Thakur urged the Chief Minister to facilitate the pilgrims of Shrikhand Yatra on the analogy of Amarnath Yatra. Kulwant Kashyap, Director, HIMFED welcomed the Chief Minister while Kewal Ram Verma presented the demand charter. Upender Kant Mishra, Devi Singh Jistu, Brij Lal, Chairman, Atul Sharma, Dharamvir Dhami, Chander Prabha Negi, Mamta Thakur and other prominent persons were present on the occasion among others.