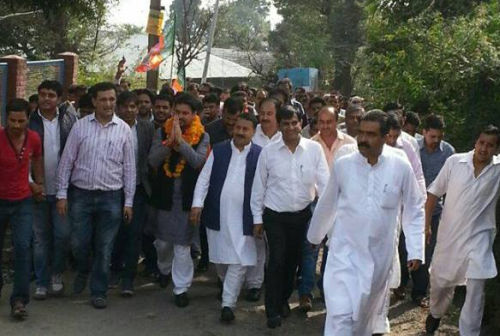 Dharamshala: Supporters of Anurag Thakur were reported to entered forcefully in the Vigilance and Anti-Corruption Bureau office at Dharamshala. Agitated supporters raised slogans against the Congress government and Chief Minister Virbhadra Singh and also burst fire crackers in the office to celebrate his birthday.
Anurag Thakur, who was summoned by the Vigilance, arrived in the office of SP, in the afternoon, along with other BJP leaders, including MLA Kutlehar, Varinder Kanwar, MLA, Paragpur, Vikram Singh, MLA, Nadaun, Vijay Agnihotri, BJP spokesperson Parveen Sharma and Chetan Bragta, head of BJYM Social Media National Campaign.
Earlier in the day, Anurag arrived at Dharamsala along with his supporters. Addressing his supporters, Anurag Thakur alleged that Virbhadra Singh was targeting him and his family. He said the HPCA was the only sports organisation in the state that had catapulted players from Himachal to international level. He blamed that the present government is trying to take over the HPCA. Thakur stated that the Congress led 2003 government had also tried to take control of the cricket body. He alleged that last time Congress had brought a sports bill to take over the HPCA and now they are trying it through vigilance enquiries.
He questioned the integrity of Chief Minister for promoting sports in the state and said during his stint as Chief Minister for six times, he had not been able to create even a single cricket stadium in the state.
Earlier, Vigilance had asked Anurag Thakur to appear in vigilance office Dharamshala on 22nd, but due to Karva Chauth the date was postponed for 24th. Oct. Vigilance official claimed that the enquiry officer was out of Dharamshala due to official work on 24th so Anurag Thakur was informed to appear on 31st Oct. He added that the changed date was given to him. Official believed that the protest was aimed at pressurising the investigating officers.
The police had made arrangements outside the Vigilance office to stop agitated supporters. However, later the police was removed and supporters were allowed to protest. The police restricted its activity to just making videos of activities of the supporters.
Taking a potshot at Anurag Thakur, Congress leaders including Prakash Chaudhary, Excise and Taxation Minister and Jagjivan Pal, Chief Parliamentary Secretary have criticized Anurag Thakur for forcefully entering into Vigilance office at Dharamshala along-with his supporters.
In a joint statement, Congress leaders claimed it was a pre-planned strategy of Anurag Thakur to gain political mileage. They alleged that Thakur was trying to disrupt investigation process.
They said that Anurag Thakur had committed fraudulent means by illegally occupying the land under the garb of HPCA during the regime of his father, the then Chief Minister Prem Kumar Dhumal. They said that he had constituted a Society under HPCA for capturing the government land and then converted it into a Company for taking the commercial benefits. They said that now he is trying to threaten the investigating agency for diverting the attention of the people by his illegal activities.