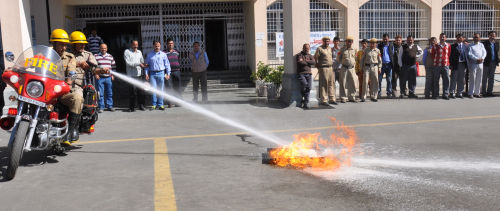 Shimla: To mitigate any type of natural disaster, a mock drill was organized at the State Secretariat here today, as a measure of preparedness in the wake of natural havoc.
Subhashish Panda, Secretary, GAD, who was there to monitor the entire exercise, said that the response of the employees to the call of disaster was appreciating and the exercise was conducted to make aware the Secretariat inmates about the decision and action to be taken if natural disaster occurs.
Several teams were constituted to evacuate the people in case of fire and earthquake, ensuring safety passages and exit routes with proper signage's in the Secretariat for the people to follow during any such eventuality. Fire teams, ambulances, team of doctors, home guards etc. were well prepared to battle any mishap on account of disaster and evacuate the inmates of Secretariat building.
Panda said that it was for the first time that an independent observation team from ARTRAC was invited to assess the preparedness and make observations regarding the mock drill and give suggestions for its improvement.
He said that as the State was highly vulnerable to various hazards, the present level of safety to mitigate a big earthquake or any other natural disaster had to be re-assessed. He said that Himachal Pradesh fall in seismic zone IV and V which points towards very high damage risk zone and lack of preparedness would have serious consequences if major earthquake revisits this part of Himalayan region.
He said that the people had to be mentally prepared to tackle such situations. During disasters, the life-line as the communication system, rail, roads, bridges, buildings, power are directly affected therefore possibility of panic all around can't be ignored.
We require more shadow Disaster Management Teams, mock drills etc. to prepare the people to the vulnerability of such a disaster, said he. People are required to be prepared mentally and physically for such an eventuality. Besides, the need for setting up an island relief and response teams in far flung areas mainly in villages as a measure of local arrangement to fight disaster. Technology needs to reach the farthest corner and the people needed to be made more aware of their personal safety.
He said that all the life line buildings and structures as Schools, Hospitals, Important public offices, Police stations, prisons, Fire stations, reservoirs, cross country pipelines, main bridges are needed to be identified all over the State so that a list of such structures and buildings could be prepared which could help in adopting possible measures of reducing vulnerability in these areas.
K.C. Sharma, Divisional Fire Officer briefed about the fire extinguishing equipments and displayed a demo of equipments mainly, 'Foam Concentrate Guns' with ten litre capacity to douse the flames within no time. He said that at present we have two motor cycles equipped with this facility enabling them to enter the narrow lanes.