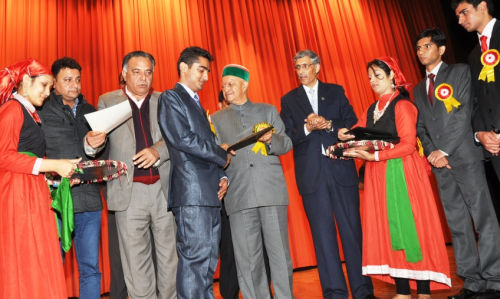 Chief Minister Virbhadra Singh said that Dr. Rajenera Prasad Medical College, Tanda had emerged as pioneer medical institute of the State and the Government was endeavoured to develop it as premier institute of the country. He was speaking at "Utopoia-2013" Annual Day function of Dr. Rajendra Parasad Medical College, Tanda yesterday late evening.
Virbhadra Singh said that Dr. Rajendra Prasad Government Medical College was the first amongst State Government run Medical Colleges in North India. He said that the overall ranking of RPGMC Tanda in the country was 28, and amongst Government Medical Colleges only its ranking is 18, and it is the only college situated in rural area amongst the State run medical colleges. He said that work on Rs. 150 crore Super Specialty Block was near completion. He said that Cancer Chemotherapy, Neurology, Gastroenterology and Cardiothoracic Surgery facilities would be strengthened and other specialized services would be provided in the hospital.
Virbhadra Singh said that the proposal was mooted 17 years back to set up this institute at Palampur but due to non-availability of land it was considered appropriate to set up the same at Tanda. He said that State Government had provided liberal funding to develop this institute and provided all basic health facilities. He said that the foundation stone laying ceremony of Dr. Rajender Parasad Medical College, Tanda Auditorium was performed by him.
Chief Minister announced that in order to maintain and develop the vast infrastructure, the PWD Sub Division, which was shifted by the BJP Government would again be brought back here. Besides, IPH and Electricity Sub-Divisions would also be reopened and the State Government would provide funding and assistance for its maintenance. He said that hostel buildings of this college would be repaired by the Government and adequate amount would be provided for it.
Virbhadra Singh said that Library of the college would be kept open 24 hours to facilitate the students. He said that solar lights would be installed from Tanda to 53 Mile. He said that adequate land would be acquired to provide more space to the campus of this institute.
Chief Minister announced to take over Baroh College of Nagrota Bagwan constituency by the Government. He also gave away the prizes to the meritorious students on the occasion.
A colorful cultural programme depicting patriotism and rich cultural heritage of the State was also organized by the students of the institute. He announced Rs. 50,000/- for promotion of cultural activities of the college.
G.S. Bali, Transport Minister said that Dr. Rajendra Parasad Medical College, Tanda was conceptualized and developed by the Chief Minister, Sh. Virbhadra Singh himself and it was unfortunate that BJP Government had always tried to take its credit. He said that Union Health Minister Ghulam Nabi Azad had also visited the institute and appreciated the facilities and standards maintained.
Bali said that this Institute has best medical facilities and faculty who were imparting quality Medical education to its students. He requested for more liberal funding for the development of this institute.
College SCA President Shailen Guleria welcomed the Chief Minister and apprised about the academic laurels won by the college students. Dr. Anil Chauhan, Principal of the college presented vote of thanks. Present on the occasion were Urban Development and TCP Minister Sudhir Sharma, MLAs Sh. Sanjay Rattan, Ajay Mahajan, Pawan Kajal, Former Minister Chander Kumar, Vice Chancellor Central University Furkan Umar, Chairman KCCB Jagdish Sepahia, Vice Chairman Forest Corp. Sh. Kewal Singh Pathania, Vice President SCA Katyani Dutt, General Secretary SCA Tanya Thakur, Ex MLA Surender Kaku, parents of the students, faculty members and members of media.