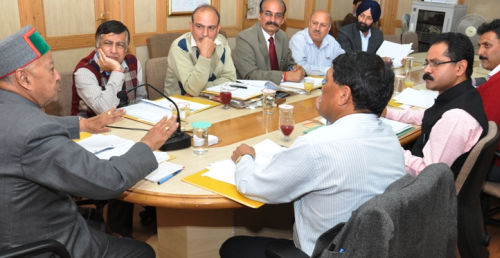 Himachal Pradesh Tourism Development Corporation Ltd. (HPTDC) has earned a profit of Rs. 76.58 lakh during financial year 2012-13. The total income of the Corporation was 77.86 crore while expenditure was 77.10 crore during this period. Chief Minister Virbhadra Singh disclosed this while presiding over the Board of Directors (BoD) meeting of HPTDC here today. The annual accounts were also given approval in the meeting.
Virbhadra Singh asked the officers to explore possibilities for setting up suitable tents at Sangla in district Kinnaur and other locations under Eco Tourism-cum-Nature Camp accommodation. He said that HPTDC had provided Wi-Fi system in the Volvo buses for conveyance and ready reference of passengers and this facility would also be provided at the Hotel Palace, Chail. He said that putting green pitch and putt facility would be provided at the Palace Chail for tourist's attraction.
Chief Minister stressed that the customers should be provided best care and facilities and the hotel premises should be kept neat and clean and food should be of good quality. He directed to carry out renovation of Himachal Bhawan in New Delhi and Café Satluj at Rampur Bushahr on priority so that visitors could be provided better facilities. He said that ex-post facto approval was accorded for Merchant Service Fee paid to banks and other institutions for booking of hotels and transport as the same was not charged from the customers.
Virbhadra Singh said that the bonus @ 8.33 per cent under the payment of Bonus (Amendment) Act, 2007 for the year ending 31 March, 2013 would be given to the employees/workers of HPTDC whose Wages including DA did not exceed Rs. 10,000 per month.
He said that adjustment of deficit of Himachal Sadan Delhi against the surplus of Himachal Bhawan Chandigarh and Peterhof Shimla would be de-linked. The HPTDC would lease out land at Manali for running Volvo service station by BNT Motors New Delhi in joint venture with HPTDC. He said that the HPTDC would get rent of Rs. 4.50 lakh per annum plus ten per cent annual increase. With the facility of Volvo Bus Service Station HPTDC as well as HRTC and other private operators would be able to get their buses repaired within the State who other wise had to go to Delhi, even for minor repairs.
Virbhadra Singh said that Tourist Inn Rajgarh and Anglers Bungalow at Katrain would be leased out to private party or agency on annual rent basis. The State Government officers and officials on tour would be provided accommodation on rent basis at Hotel Baghal, Darlaghat for Rs. 600 for A.C room and Rs. 400 for non-AC room.
BoD Members Surinder Sethi, Virender Dharmani, Roopesh Kanwal, Vijay Inder Karan, Amarjeet Singh, Chief Secretary Sudripto Roy, Principal Secretary to Chief Minister & Tourism V.C. Pharka, Principal Secretary Revenue & Finance Tarun Shridhar, Secretary GAD & MD HPTDC Subhashish Panda, G.M. HPTDC Yogesh Behal and other officers were present on the occasion.