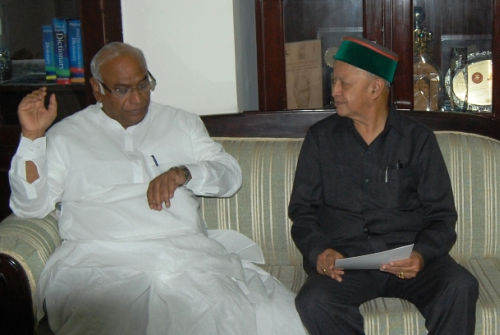 Himachal Pradesh Government and top Railway officials will meet on 14th September, 2013 at New Delhi to discuss the modalities about the execution of various Railways projects in the Himachal Pradesh.
It was decided in a high level meeting between Chief Minister Virbhadra Singh and Railways Minister Mallikarjun Kharge in New Delhi.
Chief Secretary S. Roy and Railway Board Chairman Arunendra Kumar will lead their respective sides to discuss the strengthening of Rail Network in the State and expedite the Railways projects being commissioned in the State.
Chief Minister Shri Virbhadra Singh offered to bear the 25% of the total cost of the Bilaspur – Bhanupalli—Beri broad guage Railway line and also offered free Government land on the railways alignments.
Chief Minister also offered to share the construction cost of New Railway line connecting Baddi keeping in view of the upcoming industrial and commercial complexes in Baddi-Barotiwala -Nalagarh areas.
He requested the Railway Minister to provide adequate budgetary provision for timely completion of Nangal- Talwara – Broad Guage Railway line and told that so far only 44 km Railway track has been construction on this line from Nangal to Amb -Andaura during last 33 years. He told that out of total 83.74 kms Railway track around 62 kms track falls in the State and requested the Union Railways Ministry to fix time limit for construction of this Railway line.
Virbhadra Singh requested the Railway Ministry to provide adequate budget for early completion of survey on Ghanaulli-Baddi–Kala Amb-Paonta Sahib-Dehradun broad guage Railway line and all other Railway lines, announcement of which was made in the Railway budget.