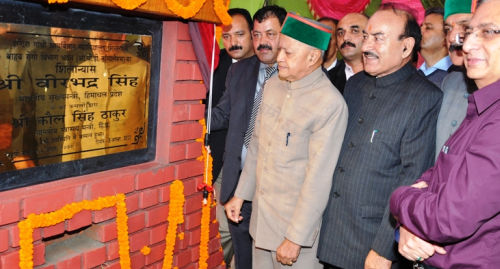 Chief Minister Virbhadra Singh today laid the foundation stones of new OPD and Administrative Blocks of Indira Gandhi Hospital and Medical College (IGMC) Shimla to be constructed at a cost of Rs. 56.20 crore and Rs. 10 crore respectively.
Virbhadra Singh said on the occasion that the new 11 storied OPD Block would provide better medical check-up and specialised treatment facilities to the people of the State. It would also house Trauma ward, Casualty, CT scan, Minor O.T, Emergency, X-Ray, Registration Room, along-with eight storeys of various specialities having 49 special wards. There would also be facility of waiting room and parking for the patients and their attendants. The building would start from Cart Road near Auckland tunnel and would have escalator facility.
Chief Minister said that providing best health services to the people of State had been a top priority of the government and it was endeavouring to create best medical infrastructure in the State. The annual plan for health sector had been increased to Rs.242 crore from Rs. 195 crore with an increase of 24 per cent as compare to the last budget. The medical education budget had also been enhanced from Rs. 7 crore to Rs. 30crore with four time increase. Besides, annual plan under National Rural Health Mission (NHRM) had been increased to Rs. 220 crore from Rs. 158 crore.
Virbhadra Singh said that IGMC campus remained overcrowded as two hospitals and medical college were functioning in the same campus. In order to decongest the IGMC and provide better health facilities along-with more open space, a second campus would be constructed around Ghanahti near Shimla at a cost of Rs. 150 crore which would have 100 bedded Hospital, Dental College and Nursing College, he added.
Chief Minister expressed his gratitude to the Government of India (GoI) and Union Health Minister Gulam Nabi Azad for providing liberal package for development of health facilities in the State. He said that GoI had given its approval to include IGMC Shimla under Pradhan Mantri Swasthya Seva Yojna (PMSSY) and a new OT Complex.
Virbhadra Singh said that IGMC was a premier health institute of the State and government would provide all assistance to develop it further. He asked the medical specialists and professors to adopt and incorporate new knowledge in Medical College adding that it should be equipped with latest machines and technology. He said that Rs. 7.2 crore had been provided during the current fiscal for purchase of various machinery and equipments to provide specialty services in the departments of Anaesthesia, Pediatrics, Neurology, Cardiology, Biochemistry and Radiology.
Virbhadra Singh said that Kamla Nehru Hospital (KNH) would be upgraded to a full fledged mother and child hospital having all medical, surgical and gynaecological specialty facilities. In the first phase, a 100 bedded wing would be added besides developing parking facility. He directed the District Administration to find out a suitable site for the construction of 'Sarai Bhawan' near Cart Road for the use of attendants of patients and common people at cheaper rates.
Chief Minister also visited the Chopal bus accident injured persons in IGMC and enquired about their well-being. He wished them a speedy recovery. He directed the IGMC Authorities to provide best possible medical treatment free of cost to all the injured.
He said that Community Health Centre at Chopal and Nerwa would be upgraded to 50 bedded hospitals from 30 bedded and vacant posts of Doctors in both hospitals would be filled on priority. He also directed the Health Secretary to prepare proposal for the extension of both these Hospitals. A deputation of Chopal area met Chief Minister under the Chairmanship of MLA Chopal Balbir Verma in this respect.
Health Minister Kaul Singh Thakur thanked the Chief Minister for giving top priority and liberal funding for health sector. He said that the Department of Cancer in IGMC would be upgraded as State of Art Cancer Diagnostic Services by spending Rs. 6.50 crore. He said that new machines like Linear Accelerator and Brachytherapy would be installed at Cancer Hospital and a new block of Cancer Hospital would be constructed at a cost of Rs. 10.8 crore.
Kaul Singh Thakur said that Dr. R.P. Government Medical College (RPGMC) Tanda was being upgraded as a super specialty hospital. Rs. 150 crore were being spent on it and it would be completed in October next. He said that 465 various vacant posts in the Health Department would be filled up to provide proper health care facilities to the people of the State.
Social Justice and Empowerment Minister Dr. (Col.) Dhani Ram Shandil said that Old Age Home announced by Union Minister Anand Sharma would be set up in some sunny and open area instead of IGMC complex which was a cold zone and not suitable for old persons.
Chief Parliamentary Secretary Nand Lal, Mayor Sanjay Chauhan, Principal Secretary Health Ali Raza Rizvi, Deputy Commissioner Dinesh Malhotra, S.P. Abhishek Dular, Special Secretary Health Amitabh Awasthi, Principal IGMC Dr. S.S. Kaushal, Director Health Services Dr. Kulbhushan Sharma, Principal Dental College Dr. R.P. Luthra, Chief Engineer PWD D.K. Nayar, Chief Architect V.C. Mongra, Joint Director IGMC K.K. Sharma and other senior officers were present on the occasion.