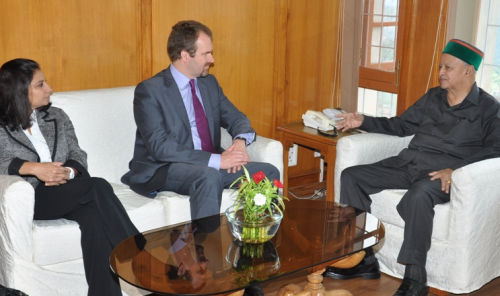 David Lelliott, Deputy High Commissioner of British High Commission, Chandigarh called on Chief Minister Virbhadra Singh here at Shimla, today. It was a courtesy call.
Chief Minister apprised the Deputy High Commissioner that Himachal Pradesh was a very peaceful State where special focus was being given on maintaining clean and green environment. He said that it was a hassle-free State where all political parties had a common point of view on the matters relating to the interests of the State.
Virbhadra Singh sought British government's expertise in setting-up of a big central library at Shimla. He also sought assistance for de-congestion of Shimla town by putting up modern personalised rapid transport system (PODS) like in United Kingdom. He said that British expertise would also be useful for other modes of transport such as rope ways, escalators and tunnels in the State, especially in Shimla town.
David Lelliott said that he had recently joined British High Commission few months back and would make all efforts to provide assistance and other help in de-congestion of Shimla town and putting up of a central library at Shimla.
Chief Minister honoured the British High Commission by presenting Himachali Cap and Shawl. Principal Secretary to Chief Minister, V.C. Pharka, Secretary GAD Bharat Khera, Senior Trade and Investment Advisor of British High Commission, New Delhi Tanisha Thiara were present on the occasion.