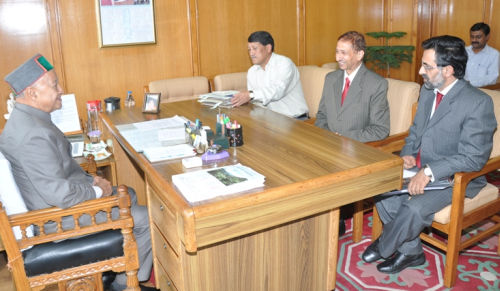 Chairman, Bhakra Beas Management Board (BBMB) A.B. Agrawal, met Chief Minister Virbhadra Singh here, today. He apprised the Chief Minister about the water and power position of BBMB projects. Agrawal also briefed the Chief Minister about the progress of on-going works relating to the Golden Jubilee of Bhakra Dam.
Virbhadra Singh said that over 44,000 acres of land of Himachal Pradesh was submerged due to construction of Bhakra Dam. It was unfortunate that people who were ousted could not be rehabilitated properly in Haryana and the families ousted due to construction of Pong dam had also not been rehabilitated properly in Rajasthan. The maximum people had been settled in Himachal Pradesh only. He asked the BBMB to accord approval to meet drinking water requirements of the people of the State and allot piece of land near Pong Dam for fisheries farming.
Chief Minister said that Himachali persons were being highly charged for registration slips in BBMB Sundernagar Hospital and Pandoh Dispensary, which should be rationalized. The State Government would provide adequate trained nurses to BBMB on secondment basis for running their health institutions properly in Sundernagar and Pandoh. He asked the BBMB to sort out the pending issues of State. He also appreciated the progress made by BBMB.
Agrawal invited the Chief Minister to the Golden Jubilee celebrations to be held at Nangal on completion of 50 years of dedication of Bharkra Dam to the National on 22nd October, 2013. He said that BBMB would provide all assistance to solve pending issues of the State. The position of manpower in BBMB was also discussed.
Principal Secretary to Chief Minister V.C. Pharka, Principal Secretary MPP& Power S.K.B.S. Negi and Special Secretary BBMB R.S. Jalta were present on the occasion.