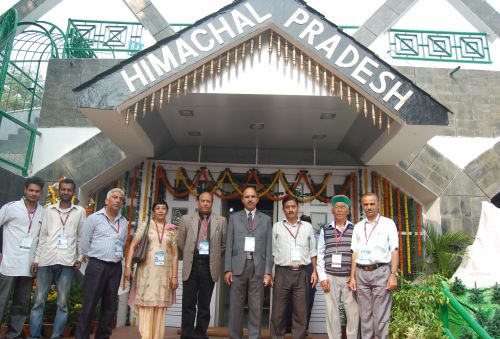 The 32nd season of Indian International Trade Fair started on 14 November 2012 at Pragati Maidan in New Delhi. The annual fair that would conclude after 14 days on 27 November 2012 was inaugurated by the President of India Pranab Mukherjee. Mikhail V Myasnikovich, the Prime Minister of Belarus was the Guest of Honour to the inauguration ceremony and he also inaugurated the Belarusian pavilion at the fair.
In this world famous trade fair, Himachali products are also on show. Himachali products especially woolen and handicrafts items are most sought in India International Trade Fair 2012 being held in New Delhi said pavilion director R .R .Patyal here today.
He said that The Kullu Shawals, woolen and Pashmina garments from Kinnaur and Kullu, Chamba Rumal, Bamboo crafts and paintings from Kangra and Chamba are great attractions for Indian and foreigners' visitors during the fair. About 50 industrial units mainly Bhuttico weavers, Himbunkar, Shivambhu international, Malana Arts and cooperative units are participating in the international fair while 15 Govt. Departments mainly Himachal tourism, forest, horticulture, Khadi board, handloom and handicrafts corporation, language and culture are participating in the Fair and displaying their products of the State.
The herbal products like Kangra Honey and herbal beauty products are also getting high demand with the customers said R R Patyal pavilion director here today.