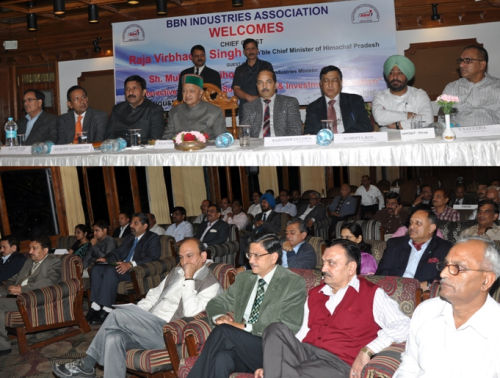 Chief Minister Virbhadra Singh said that State government was fully dedicated and geared-up to extend all support to prospective entrepreneurs by way of a provision of infrastructure, fiscal and other incentives, speedy clearances and other measures. He was interacting with the Baddi-Barotiwala-Nalagarh Industries Association (BBNIA) on 'Sustainability & Investment Promotion' here, on Friday evening.
Virbhadra Singh said State had made significant progress in field of industrialization in past few years. He said that government had taken various steps to encourage industrial growth by simplifying cumbersome processes and other formalities. A Land Bank had been established for setting of new industries and infrastructural facilities in all industrial areas were being improved to ensure availability of quality power and better communication.
He said the government had taken a significant decision to provide all clearances within 90 days for setting up new industrial projects and procedure for the transfer of land for industrial purposes. The procedures had been simplified for the approval of industries especially medium, small & micro projects so that apart from generating revenues, youth could get employment avenues at large scale.
Chief Minister said that State government was coming out with a new industrial policy wherein it had been proposed to effectively address the issue as regards fiscal concessions and initiative measures to ensure simplification of various procedures to facilitate the entrepreneurs.
Virbhadra Singh said it was unfortunate that industrial package to the State was withdrawn before fixed time period due to pressure from the neighbouring States who feared that industries were shifting to Himachal Pradesh adding that it was not correct. He had taken up the matter vigorously with the Prime Minister Dr. Manmohan Singh, UPA Chairperson Sonia Gandhi and Union Industries Minister Anand Sharma for restoring the industrial package till 2020, He expressed hope that industrial package would be restored to the State and it would help in further acceleration of industrial growth.
Virbhadra Singh said that BBN had emerged as industrial hub of the State which was generating more than 70 percent of industrial revenue. The BBN Development Authority (BBNDA) was constituted during his last tenure as Chief Minister with an IAS officer as its Chairman but previous government kept this post vacant and additional charge was given to Deputy Commissioner of Solan. He said that a senior IAS officer would be posted as Chairman of BBNDA to ensure smooth functioning and gearing up the industrial growth.
Industries Minister Mukesh Agnihotri said on the occasion that industries were being encouraged by creating favourable infrastructure in the State. He said presently 494 medium & large scale and 39276 small scale industries units had been established with an investment of over Rs. 17,000 crore and employment to about three lakh people. He said that steps were being taken to promote Himachal Pradesh on industrial map of the Country.
Agnihotri said that proposals worth Rs. 48,000 crore were received after withdrawal of industrial package but industries worth only Rs. 13,000 crore could materialize. The government was extending full support to prospective entrepreneur in the hilly State by way of providing proper infrastructure, incentives, speedy clearances and other measures to facilitate smooth business in the State.
Industries Minister said that new 'Industries Policy-2013' had been drafted and put on the official website of the Industries Department for seeking suggestions of the entrepreneurs and other stake holders. He requested the Members of BBNIA to give their valuable suggestions to make it more practical and relevant. He said that Industries Advisory Council would also be constituted soon.
Agnihotri said that Mini Tool Room whose foundation was laid by Shri Virbhadra Singh at Parwanoo was being set up as full fledged Tool Room on which Rs. 100 crore would be spent. He said that Rs. 100 crore would be spent for skill development in the State and three new industrial areas were being developed developed in Solan, Kangra and Una districts.
He said that BBNIA and other entrepreneurs should come forward to meet their Corporate Social Responsibility (CSR) by encouraging green industrialization and launching suitable welfare schemes for the employees and innovative welfare projects under PPP modes.
President BBNIA Rajinder Guleria gave presentation on sustainability issues and road map of industries in the State. Leading Industrialist of State and Chairman Vardhman Group Sachit Jain gave presentation on industrial status and its growth potential in the State. Former President BBNIA and Vice Chairman Chamber of Industries Arun Rawat gave presentation on challenges and expertization of MSNE.
Chief Secretary Sudripta Roy, Principal Secretary Revenue & Industries Tarun Shridhar, Principal Secretary Finance Dr. Shrikant Baldi, Principal Secretary MPP & Power-cum- Chairman HPSEBL S.K.B.S. Negi, Principal Private Secretary to the Chief Minister Subhash Ahluwalia, Director Information & Public Relations and Managing Director SIDC Rajinder Singh, Labour Commissioner Nandita Gupta, Director Industries Mohan Chauhan, DC Solan Madan Chauhan, Chairman Pollutions Control Board Kuldeep Singh Pathania, Chairman Labour Welfare Board Baba Hardeep Singh, other officers and entrepreneurs were also present on the occasion.