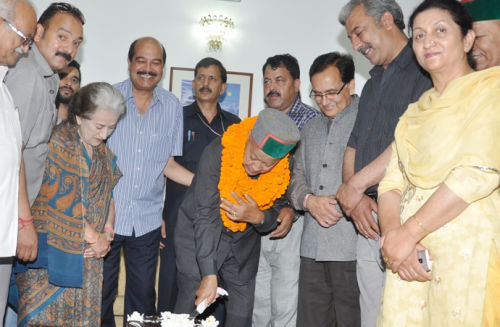 Chief Minister Virbhadra Singh was accorded warm welcome at Annadale Helipad, his official residence, Oak Over and on reaching Secretariat. People gathered in numbers to congratulate Virbhadra Singh on victory of Congress candidate Pratibha Singh in Mandi Parliamentary Constituency bye-election.
Virbhadra Singh said that credit for this resounding victory goes to Central leadership headed by UPA Chairperson Sonia Gandhi, Congress Vice President Rahul Gandhi, Voters of Mandi Parliamentary Constituency and Congress workers who had worked relentlessly to ensure smooth victory. He thanked people of the State for reposing faith in the policies and programmes of both Centre and State Governments and development works taken up during the past six months.
Chief Minister said that he had personally taken up the matter of providing liberal financial assistance to the rain-ravaged State and especially for the most affected Kinnaur district with the Prime Minister Dr. Manmohan Singh, UPA Chairperson Sonia Gandhi, Home Minister Sushil Kumar Shinde, Vice Chairman Planning Commission Dr. Montaik Singh Ahluwalia and other related ministries of Government of India during his Delhi visit.
Irrigation and Public Health Minister Vidya Stokes, Health and Family Welfare Minister Kaul Singh Thakur, MPP and Power Minister Sujan Singh Pathania, Industries Minister Mukesh Agnihotri, Excise & Taxation Minister Prakash Chaudhary, Social Justice and Empowerment Minister Col. (Retd.) Dr. Dhani Ram Shandil, Rural Development and Panchayati Raj Minister Anil Sharma, Deputy Speaker, H.P. Vidhan Sabha Jagat Singh Negi, MLAs Kuldeep Kumar and Mansa Ram, former Minister Gangu Ram Musafir, Chairman H.P. State Cooperative Bank Harsh Mahajan, Vice Chairman, HRTC, Kewal Singh Pathania, Former Minister Chander Kumar, Chairman, H.P. State Pollution Control Board Kuldeep Singh Pathania, State INTUC President and Chairman, H.P. Building and Other Constructions Workers Welfare Board Bawa Hardeep Singh, former Deputy Mayor M.C. Shimla and Member Executive Council HPU Harish Janratha, Councillors, office bearers of Singh Sabha Shimla and others party workers were present in large number on the occasion.