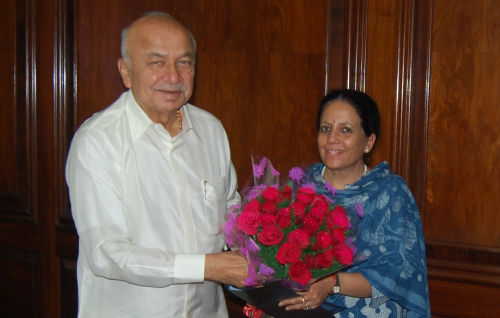 Union Government has deputed the Inter Ministerial Central Team for on the spot assessment of loss due to flash floods in Himachal Pradesh said Pratibha Singh Member Parliament after meeting with Union Home Minister Sushil Kumar Shinde at North Block, New Delhi today.
Pratibha Singh said that central team would be led by Veena Kumari Meena, Joint Secretary (PM) Ministry of Home Affairs for on the spot assessment of the damages caused by landslides and cloud burst in the State. She said that the team would consist of the representatives of the Agriculture, Finance, Planning Commission, Road Transport & Highways and Rural Development. She said that the State Government would also depute senior officers to assist the Inter Ministerial Team. She said that the State Government would apprise the central team about sector wise damages occurred due to flash floods.
Pratibha Singh gave the details about the massive loss of life and property to the Union Home Minister and told that the magnitude and intensity of the flash floods in the State were similar to disaster that occurred in Uttrakhand State and requested him to provide all possible assistance to the victim families who have suffered extensive damages. She told that State had gone one year back in terms of development due to the flash floods and it had also badly affected the tourism sector as the flood occurred when the tourism season was at its peak in the State. She said that tourism season in the State was terminated in the middle of the season and it had affected the tourism industry all over the State which was not even affected by the flash floods. She said that State Government needs massive investment in infrastructure sector to bring complete normalcy in the region.
Union Home Minister assured her that Centre would provide all possible assistance to the State Government in the hour of distress and lauded the role of the State Government for immediate relief and rescue operations which saved many lives and appreciated the rescue efforts launched for evacuating the stranded tourists and local people.