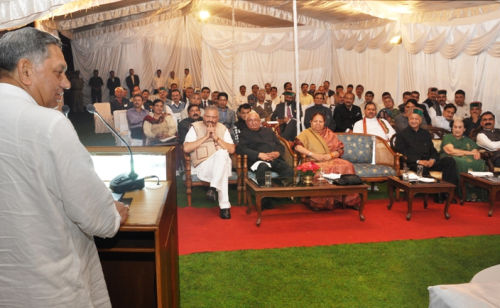 The 'Kavya Sandhya' was organised at the residence of Chief Minister Virbhadra Singh here in last evening. Governor Urmila Singh, Chief Minister Virbhadra Singh, Member of Parliament Janardan Dwivedi, Vidhan Sabha Speaker Brij Bihari Lal Butail and Members of State Cabinet were present on the occasion.
The poetic symposium was organised jointly by Information and Public Relations Department and Language, Art & Culture Department in which noted poets and litterateurs from all over the State participated.
On the occasion, Chief Minister said that the poets and writers of the State had made valuable contributions in highlighting the traditions, culture and customs of the State and the State Government was endeavoured for their promotion so that the rich traditions of the State were highlighted and gain prominence at national and international levels. He appreciated the participation of poets and writers of the State in 'Kavya Sandhya' for promotion of State's rich customs and culture.
Virbhadra Singh welcomed the poets by honouring them shawl and Himachali cap.
Janardan Dwivedi also read out his poems on the occasion and stressed on proper uses of words during expressing oneself in such symposium. Dwivedi orated his poetry containing value based messages which he had composed almost four decades back.
Prof. ADN Bajpai, Gurmeet Bedi, Tej Ram Sharma, Kuldeep Sharma, Kul Rajeev Pant, Atma Ranjan, Rekha Vashisht, Shahid Anjum, Saroj Parma and Rajeev Trigarti also participated in the 'Kavya Sandhya' and gave a message of oneness, hard work, commitment, devotion and duty in day to day life.