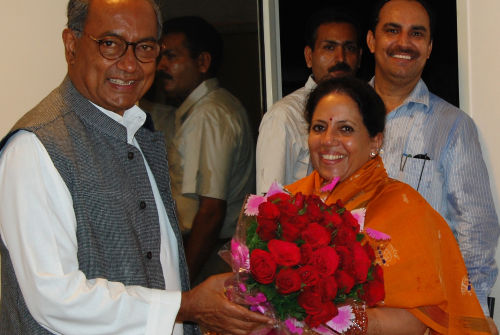 Member of Parliament Pratibha Singh called on Union Minister of State for Finance Namo Narain Meena in New Delhi and requested him to open more branches of banks in the Himachal Pradesh particularly in the backward, tribal and difficult areas so as to cover entire population with banking facilities in the State.
Singh informed Union Minister of State that the Direct Cash Transfer Scheme has been launched in four districts of the State and the State Government was committed to extend this scheme in all 12 districts of the State. She said that success of the scheme mainly depends on banking facilities at the door steps to the citizens.
MP said that more than 90% population in the State had also been covered under AADHAR scheme and more economic incentives like school scholarships, old age pensions, minority students' scholarships, service pension etc would be provided directly in the bank accounts of the beneficiaries.
She said that the bank customers in tribal, backward and difficult area like Lahual-Spiti, Bharmour, Dodra Kwar, Tissa, Pangi etc. have to walk around five km or more to avail banking facilities and requested him to open extension counters/ATMs and small branches in these areas to ensure success of the Direct Cash Transfer Scheme of the UPA Government which would root out corruption and role of middle man in future. She said that more banking facilities would also help in generating new economic activities in these areas and would particularly benefit small growers and artisans to expand their economic activities.
Pratibha Singh also requested the Union Minister to direct the various agencies like LIC, GIC and other insurance agencies to expedite the case of claims made in flood affected areas in the State and relax the rules on the pattern of the Uttrakhand.
She urged the Union Minister to direct the banks to provide special discounts on the loans in flood affected areas as the backbone of the economy in these areas had been badly shattered and also organizes Loan Melas in rural areas.