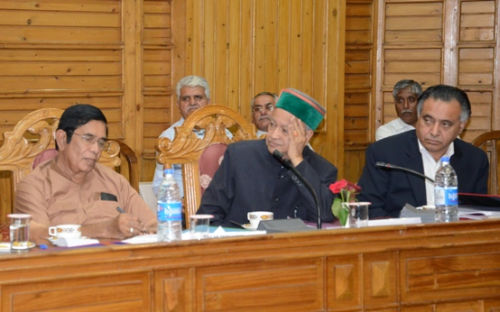 Chief Minister Virbhadra Singh urged the Central Government to declare nine new National Highways (NH) having length of 1235.875 kms. He said that out of these five roads have been taken up with Ministry of Road Transport and Highways (MORT&H) since long for which all formalities have now been completed and final approval was awaited.
Virbhadra Singh said it in a high level meeting with Union Road Transport & Highways Minister Oscar Fernandes held at Peterhof here today. He said that these five NH were 59.775 kms Hamirpur-Sujanpur-Palampur road, 111.80 kms Brahmpukhar- Bilaspur- Ghumarwin-Sarkaghat-Ladbhadol-Baijnath road, 133 kms Bharmour-Chamba-Dalhousie-Pathankot road, 106.400 kms Taradevi-Jubbarhatti-Kunihar-Ramshehar-Nalagarh-Ghanouli (HP boundary) and 83.90 kms Chandigarh-PGI (Baddi) Punjab Pokharan-Nalagarh-Ramshehar-Arki-Shalaghat road.
Chief Minister requested to upgrade four important State roads as National Highways. These include 250 kms Kiratpur-Nagal-Bhakhara-Bangana-Nadaun-Sandhol-Rewalsar-Nerchowk road, 115 kms Narkanda-Baghi-Khadrala-Sungri-Rohru-Hatkoti road, 180 kms Dhanotu-Jaidevi-Rohanda-Churag-Tatapani-Dhalli road and 196 kms Pathankot-Banikhet-Chamba-Teesa-Mandhal-Killar road.
Virbhadra Singh said that NH-88 from Shimla-Kangra having a length 197 kms was an important road and has heavy traffic thus it should be made four lane road as this said road not only transverses through five districts but also offers vertical connectivity to all the districts of Himachal Pradesh. He said that he had written to the then Union Road Transport Minister C.P. Joshi in May this year in this respect. He also requested to provide more funds for repair and maintenance of NH-21 Gara Moura to Ghaghas which is an important road as it leads to Mandi, Kullu and Manali major tourists spots of Country.
Chief Minister apprised the Union Minister that roads are the only viable transportation modes in State. He said that State had road lengths of more than 32,000 kms out of which National Highways were only 1553 kms. State Highways about 1500 kms, Major District roads were 2139 kms and majority was of rural roads 27049 kms. He requested to include and upgrade more roads under National Highways and provide more funds for maintenance of all existing NH in the State.
Virbhadra Singh told the Union Minister that huge losses and damages were reported in the State due to recent incessant rains and massive damage happened in the roads. He said that natural calamity had caused huge damages to over Rs. one thousand crore in the road sector itself. He said that about 4394 roads were damaged in the State and Kinnaur district suffered extensive damage. He urged the Union Minister to undertake the restoration of alternate alignment of NH along old Hindustan-Tibet road keeping in view its strategic importance. He also sought relaxation in compulsory maintenance period of five years for metalled roads falling in snow bound areas as contractors were not bidding for such projects despite repeated tendering.
Virbhadra Singh said that many roads were pending for Forest clearance from Ministry of Environment and Forest (MoEF). He said that Himachal being a hilly State had a maximum forest cover but people should not suffer for it. He said that powers for conveying approval under Forest Conservation Act 1980 may be delegated to the State upto five hectare of forest land as it would expedite early clearance under FAC which normally takes one to two years.
Union Road Transport and Highways Minister Oscar Fernandes assured the Chief Minister that approval for five National Highways would be accorded shortly and other four roads for up-gradation as NH would also be considered on priority. He said that other two roads i.e. Nagrota-Ranital-Mubarkpur and Paonta-Shillai-Hatkoti road would be taken over National Highway by GoI. He said that adequate funds would be provided for maintenance and repair of National Highways keeping in view tough climatic conditions of the State. It includes Kirtpur-Nerchowk (NH-21) and possibilities of upgrading Shimla-Kangra to four lane would also be explored.
Fernandes said that a Central Team was visiting Himachal Pradesh on 23rd July, 2013 to take stock of the losses and damages occurred due to natural calamity. He said that relief to carry out restoration work would be provided to the State after the submission of Central Team report.
Union Minister said that he has visited many States to understand the problems and sort out the same in order to speedup the ongoing works under MORT&H. He said that delay results in costs overrun and price escalation hence he wants to remove bottlenecks between his Ministry and State Governments. He said that he was happy to note that not only senior officers of the State Government but also Chief Minister was well aware of the minor details of the ongoing and pending works related to his Ministry. He assured all possible help and assistance to the State Government to complete all the works well in time.
Fernandes said that GoI was well aware of the problems being faced by the hilly States and delay of granting FCI approvals. He said that Prime Minister Secretariat had issued instructions to MoEF to dispose off all cases related to these States on priority and in time bound manner so that people of these States should not face hardships and penalised for being contributing in maintaining environment.
He said that it was a matter of concern that huge damages were happened in Uttarakhand and Himachal Pradesh because of recent heavy rains, flash floods and landslides for which long terms solutions such as widening of roads and boring tunnels should be explored. Attention should also be given for the repair and maintenance, he added.
Transport Minister G.S. Bali requested the Union Minister to take over two National Highways by GoI at earliest. He said that first road falls in his own Constituency i.e. 91 kms Nagrota-Ranital-Mubarkpur and other 160 kms Poanta-Shillai-Hatkoti road for which, all formalities were completed by the State Government. He said that these roads were declared as National Highway in December, 2008 yet final Notification was yet to be issued by GoI.
Principal Secretary PWD Narender Chauhan detailed about the various projects being undertaken by the Department. He said that heavy rains had wrecked havoc in the State especially in Kinnaur district. He urged to provide legal funding to carry out restoration work on all affected roads and bridges in the State.
Project Deepak (BRO) Bredg. S.K. Kataria apprised that he was happy to report that all roads were restored within a month despite of heavy damage and the Malling would be connected soon. He said that headquarter was shifted upwards towards Powari and heavy machinery was air lifted from Chandigarh to speed up the restoration work. He said that 16 out of 21 new project were struck off due to environment clearance.
Chief Engineer Rohtang Tunnel Project S.P. Sharma informed that work on 8.802 kms Rohtang tunnel was started from South portal i.e. Manali side and North portal i.e. Lahaul side. He said that this work was delayed due to hard rock strata, seepage and fall of debris in South portal. He said that though it could not be completed in time as proposed in 2015 but all out efforts would be made to provide connectivity by 2016 despite of all odds such as sub zero temperature and less working seasons etc.
Chairman National Highway Authority of India R.P. Singh and Chief Engineer MoRT A.K. Shriwastva assured the Chief Minister and Union Minister that work on all ongoing projects would be speeded up and all assistance would be provided to start the pending works.
Principal Secretary to Chief Minister V.C. Pharka, Principal Secretary Health Ali Raza Rizvi, Special Secretary PWD Lokendar Chauhan, Managing Director R.N. Batta, Chief Engineer (South) PWD D.K. Nayar, Chief Engineer National Highway Anil Kumar Sharma and other officers of Centre and State Government were present on the occasion.