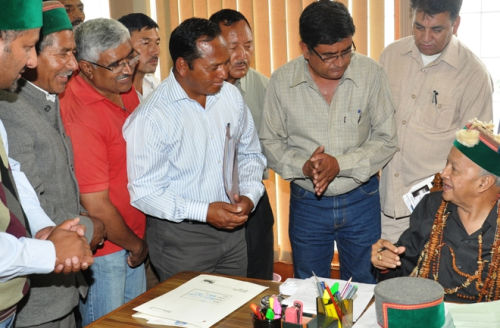 A deputation of Kinnaur district met Chief Minister Virbhadra Singh here today and apprised him about the loss suffered by the tribal people due to natural calamity and sought adequate relief.
Virbhadra Singh said that about Rs. 28 crore had been released to Deputy Commissioner Kinnaur, PWD, I&PH, Agriculture and Horticulture Departments to provide immediate relief and to speed up the restoration works. He directed all concerned officers and departments to provide immediate relief to the affected persons. He also directed the Public Works Department to further improve the restored and damaged roads in the district and IPH department to restore the drinking and irrigation schemes on war-footing in the affected areas.
Chief Minister assured the deputation that Government would provide adequate subsidy to restore and replant apple plants in Kinnaur district. He said that a relief would be provided to compensate the loss of peas, rajmah and other agriculture crops plus other assistance.
Virbhadra Singh said that the farmers of Kinnaur district would be provided a relief of Rs. 2000 per bigha for loss of agricultural crops between 25 per cent to 50 per cent, Rs. 2500 per bigha for loss between 50 per cent to75 per cent and Rs. 3000 per bigha for the loss above 75 per cent. Similarly, an assistance of Rs. 3000 per bigha would be provided to the farmers for the loss to substantial portion of land caused by landslide and avalanches etc., while Rs. 1000 per bigha would be provided for desilting of agricultural lands.
President, Kinnaur District Congress Committee Umesh Negi, members of Tribal Advisory Council (TAC) Pritam Pharka, Advocate Ram Singh, Amar Chand Negi, Jagdish Negi, Pritam Negi, Naresh Negi, former TAC Member Sukhi Ram and Nichhar Block Congress President Raj Kumar Negi were also present among others.