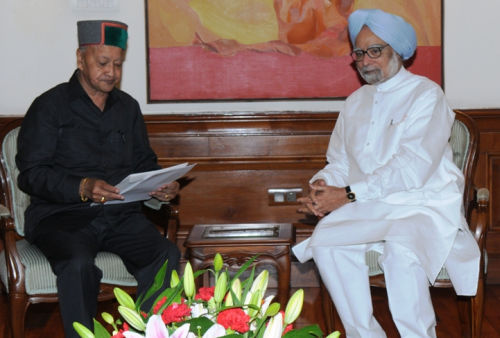 Chief Minister Virbhadra Singh today called on Prime Minister Dr. Manmohan Singh at New Delhi today and demanded Rs 1000 crore package for immediate relief and restoration works in flood affected areas of the State.
Virbhadra Singh apprised the Prime Minister that so far losses to private and public property has been estimated at Rs 2575 crore and 24 lives had been lost in the flash floods in the State. He said that State had witnessed massive destruction and had carried out rescue, relief and rehabilitation operations on massive scale and entire Government machinery had been engaged besides taking support from Army, ITBP, Border Roads Organisations and other agencies. He said that as many as 1239 persons had been evacuated to safer places so far. He said that Kinnaur district is worst affected which received unprecedented 1229% above the normal rainfall from 15th to 17th June 2013. He said that funds amounting to Rs 28 crore had been released as an immediate relief by the State Government.
Chief Minister said that more than 10,000 animals had been perished in the flash floods and more than 1000 houses had been either fully damaged or had been rendered beyond repair. He said that loss to private property is estimated at around Rs. 100 crores. He said that 2120 roads in the State has been badly affected resulting in a loss of over Rs. 1000 crore. He said that total 525 Water Supply Schemes, 280 Irrigation Schemes, 5 Sewerage Schemes and 30 Flood Protection Works have been damaged resulting a loss of over 200 crores.
Virbhadra Singh said that more than 50,000 hectare of agriculture land had been affected resulting in loss of over Rs. 200 crores to the crops besides permanent damages to agriculture land. He said that an area of over 50,000 hectare of horticulture land has been affected resulting in loss of over Rs. 400 crores to crops besides permanent damages to orchards. He said that electricity infrastructure had been severely damaged and various power projects had also suffered extensive damages, besides, losses of over Rs. 500 crores had been estimated to electricity infrastructure alone.
Chief Minister said that essential commodities had been made available in most areas of the State and had also been airlifted to cut-off areas to meet requirements for next two months. He demanded that senior engineer of the Border Roads Organisation should be stationed in Kinnaur to expedite the restoration works of National Highway 22 and requested the Ministry of Defence to formulate long term plan particularly for the stretch from Wangtu to Kaurik. He said that this road had been ravaged by repeated floods each year since the year 2000 and suggested for development of alternative road connectivity at higher elevation for lasting solutions. He demanded development of viable alternative road to ensure all weather road connectivity in the entire region.
Prime Minister appreciated the efforts of State Government for launching massive relief operations in the State and rescuing all the stranded tourists and locals immediately. He assured all possible help and assistance from Central Government for reconstruction and relief works in affected areas of the State.
Virbhadra Singh also met AICC President Sonia Gandhi and apprised her about latest political and economic developments in the State. Chief Minister detailed about the losses the State had suffered due to untimely rain, snowfall and landslides and urged her to provide liberal financial assistance to the State.
Sonia Gandhi assured the Chief Minister to provide all possible assistance to the State in this hour of distress. She also appreciated the efforts of the State Government for successfully carrying out the relief and rescue operations.