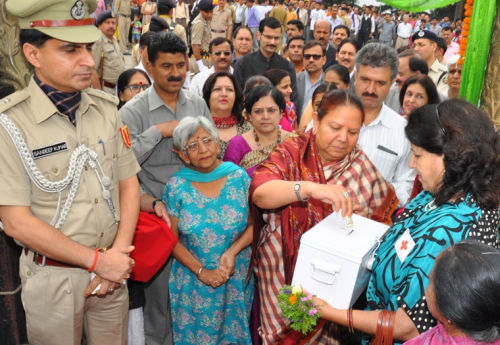 Governor Urmila Singh inaugurated the Annual Red Cross Fair at the Ridge here today. The fair was organized by the H.P State Red Cross Hospital Welfare Section, Shimla. Governor is also the President of H.P State Red Cross Society.
Governor urged the people to donate liberally towards the Red Cross which would enable the society to carry forward its humane activities which included providing medical aid, financial assistance to diseased, people affected by various natural calamities etc. She stressed upon mobilising resources and generating funds which would contribute towards saving precious lives in future. Red Cross had contributed immensely towards healing the suffering humanity and providing them succour in the hour of need and distress, she added.
Urmila Singh congratulated all the members and volunteers of the H.P. Red Cross for organizing the fair and also for their dedicated efforts which have gone a long way in strengthening the Red Cross Movement in the State. She also urged the people to associate themselves with the Red Cross activities to help the poor and underprivileged in the society.
Governor visited the stalls put up by various departments and associations and evinced keen interest in the exhibits. She also donated towards Red Cross Fund on the occasion.
More than 25 stalls were set up during the fair which included stalls put up by Army wives and IAS wives Association, tourism and horticulture departments, hand made products of prisoners. Stalls of cuisines of various varieties, baby show, fancy dress, skill games and other activities were the main attractions of the fair.
A colourful cultural programme was also presented by the children of various local schools and Speech and Hearing Impaired Children, Dhalli.
Sanjay Chauhan Mayor, Shimla MC, Tikender Panwar, Deputy Mayor, Municipal Corporation Shimla, Anita Tegta, Secretary to Governor, Dinesh Malhotra, Deputy Commissioner and Members of H.P. Red Cross Hospital Welfare Section were present among others on the occasion.