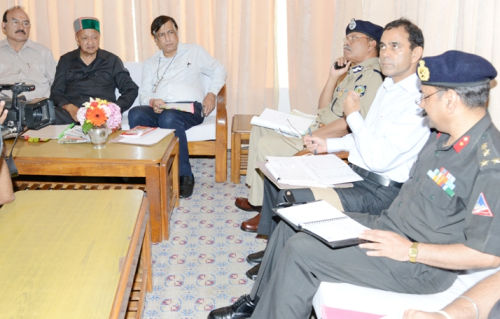 Chief Minister Virbhadra Singh reviewed the rescue and relief operation in Himachal Pradesh in view of damages occurred due to recent heavy rains. Meeting was attended by senior civil and police officers of the State Government, besides Army officers. In the meeting, Singh said that heavy damages and losses were reported in various parts of the state due to incessant rains, landslides and snow, particularly in the tribal district of Kinnaur, where maximum loss of life, damage to roads and property had been reported. In the last few days incessant rains had taken place in various parts of the State. Overall rainfall is 151 percent above the normal for this period. He said that the general life was disrupted in Kinnaur and Sirmour district which received 1229 per cent and 798 per cent above normal rainfall, respectively. He directed the officers to speed up the restoration work on damaged National Highways alongwith other link roads. He also directed to restore electricity and water supply in affected areas at earliest. He said that heavy damage was reported in horticulture and agriculture sector and some orchards were completely washed away due to incessant rains. He directed the officers of Horticulture and Agriculture department to assess the loss and provide immediate relief to the sufferers.
In the meeting he informed that 14 persons were reported to have been died in the State due to natural disaster, out of which 10 died in Kinnaur district, two each in Shimla and Sirmour districts. He said that over 300 houses had been damaged and the loss of over 130 cattle heads were reported as per preliminary reports though the actual figures might increase.
Virbhadra Singh said that an extensive damage of roads was reported in the State and the condition was worst in Kinnaur district. He directed the officers of HPSEB, PWD and Border Road Organization (BRO) to divide the affected areas in sectors and depute senior officers to ensure early restoration of roads and power supply in order to bring normalcy in communication network.
He directed the officers to ensure supply of essential commodities, LPG cylinders, Kerosene, Petrol and Diesel in the affected areas. He also gave directions to evacuate the stranded tourists and other people on war-footing while giving preference to sick, aged and children. He said that rescue operations for stranded persons in Kinnaur and Kaza were underway. Besides one State Government helicopter, two helicopters of Indian Air Force had been pressed into service for evacuating stranded persons from Sangla valley, Rekong Peo and upper areas of Kinnaur. He said that 210 persons were evacuated on Tuesday, while 69 persons were evacuated yesterday. He directed the officers to evacuate the remaining about 400 people within next two days.
Chief Minister said that Rs. 10 crore had already been released under State Disaster Relief Fund to provide immediate relief and carrying out restoration works in six districts which suffered maximum losses. He said that district Kinnaur had been sanctioned Rs, 3.50 crore, apart from this Rs. 1.50 crore each for Mandi, Sirmaur, Kullu and Chamba districts while Rs. 50 lakh for Lahaul-Spiti district had been sanctioned to carry out relief works. He directed the concerned Deputy Commissioners to provide immediate relief to all the affected persons. He directed the officers to do detailed assessment of losses immediately so that the Government of India could be requested to sanction funds for relief and restoration.
Kaul Singh Thakur, Revenue and Health Minister said that two disaster units had been created at IGMC Shimla and Dr. Rajendra Prasad Medical College & Hospital, Tanda to provide immediate medical aid to the needy persons. Instructions have also been issued to all the Deputy Commissioners to remain vigilant and get assessed all losses in respect of public and private property and ensure immediate relief as per the Relief Manual.
Chief Secretary S.Roy apprised that all the Departments have been directed to activate their field machinery to ensure timely relief and speed up rescue operations in all affected areas of the state. In order to speed up the restoration on important roads in the affected areas, a Superintending Engineer of Public Works Department has been stationed at Rekong Peo, besides placing the services of three senior officers of State Administrative Services at the disposal of District Administration Kinnaur for assisting in the rescue and relief operations. The local administration has also set up relief camps where food and shelter is being provided to the stranded persons.
He said that problem of re-fueling the helicopters had been sorted out and aviation fuel dumps have been created at Rampur and Shimla (Annadale). He informed that stranded tourists were being air lifted to Rampur and in the next couple of days, all of them would be evacuated as necessary transport arrangements have been made by the concerned districts administration to ensure their arrival at respective destinations. He further revealed that beyond Rampur, adequate supplies of kerosene and diesel had been made available and there was no shortage of foodgrains and other essential commodities.
He further disclosed that though the situation is grim in tribal areas of Kinnaur, yet other tourists places in the state were attracting a flux of visitors as normal condition prevail in rest of the State. He further reassured that administration is committed and alive to the prevailing situation and was doing its best to bring normalcy and restore the road network in next couple of days. He said that all concerned government departments had been directed to convey the extent of losses immediately so that a consolidated report is prepared for seeking Central assistance.
Brig. S.K.Kataria, Chief Engineer, Project Deepak informed that in Kinnaur district, roads were badly damaged at many places. He said that damages assessed between Wangtu to Pooh revealed that many breaches had occurred on National Highway between Wangtu and Powari. He said that landslides of approximately seven kilometers of road length occurred in Kasang and Akpa and about 30 numbers of breaches of approximately 1.5 kilometers has damaged the roads. He said that there was adequate men and machinery deployed to restore the affected roads. He said that presently BRO was working on nine critical bottlenecks with support of Army, PWD and Jaypee Power Project. He assured that Rekong Peo road would be opened to vehicular traffic within three days, while Tapri-Powari road would be restored by tomorrow.
Brig. Kataria informed that Wangtu-Karchham, Pooh to Samdoh and Samdoh-Kaza-Gramphu roads would be opened by 22nd June, while Powari to Kasang road would be opened by 25th June. He said that Kasang to Akpa road, which had been damaged badly, would take some time.
Engineer-in-Chief, PWD Pradeep Chauhan, while giving details of the men and machinery put on the restoration work, informed that whereas the BRO is concentrating on the restoration of National Highways, the State PWD is concentrating on restoration of link roads so that the entire road network in the affected areas becomes functional immediately.