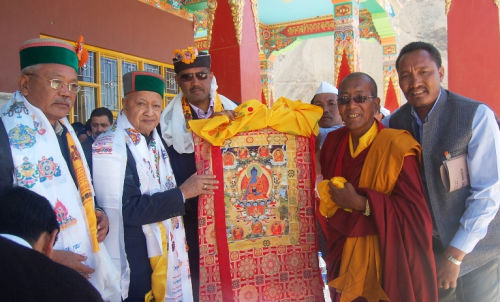 During his Lahaul-Spiti tour, Chief Minister Virbhadra Singh said that more micro and mini power projects would be set up in Spiti valley so as to usher an era of prosperity and provide employment opportunities to the youth of the area. The Government, however, would take prior consent of the local people and public representatives before setting up of these projects and take into consideration their suggestions on the issue.
While addressing a public meeting at Tabo in Spiti valley, Chief Minister said that equitable and balanced development of tribal areas and welfare of tribal people was top priority of the State Government. He said that the pace of development would be accelerated which had come to a standstill during the previous BJP regime. The Congress Governments had always accorded priority for development of tribal and difficult areas of the State and Spiti valley was one of them, added he.
Virbhadra Singh said that road from Samdhoo to Kaza was being widened by BRO on priority. Besides, low voltage problem in Spiti valley would be solved soon by providing power supply from Pooh. He announced Rs. 10,000 for Mahila Mandal and Rs. 5,000 each for schools who presented cultural programme.
Later, Chief Minister also visited Tabo Monastery and performed pooja there.
MLA Ravi Thakur while welcoming the Chief Minister demanded for pollution free hydel power projects in the valley. General Secretary, Tabo Monastery Gopal Krishan Negi and other senior Congress leaders placed the demands of the area.
Former Minister Phunchog Rai also welcomed the Chief Minister and Pradhan Gram Panchayat Tabo presented the vote of thanks.
Earlier, addressing a public meeting at Kaza, Chief Minister reiterated the resolve the Government for speedy development of the tribal areas. He thanked the people for reposing faith in the policies and programmes of the Congress Governments and added that constraints of funds would not be allowed to come in the way of development of tribal areas.
Chief Minister said that all 149 schools which were de-notified by the previous BJP Government were being re-opened which also includes Hikkim High School of Spiti, located on the highest altitude in the State.
Virbhadra Singh announced to upgrade Kooling High School to Senior Secondary School. He said that adequate funds would be made available for beautification and renovation of Kaza Monastery.
Former MLA Raghuvir Thakur, District Congress President Rapten Dorge, General Secretary, C. K Bodh, Members of Tribal Advisory Committee, Sohan Singh and Shri Dabla Tareg, Advisor to the Chief Minister T.G. Negi, Principal Secretary to the Chief Minister V.C Pharka and other prominent people of the area were present on the occasion.