Anurag Thakur led hundreds of Bhartiya Janta Yuva Morcha (BJYM) activists clashed with police when they were stopped from marching towards Prime Minister Manmohan Singh's residence to demand his resignation and impartial probe into scams against the UPA government.
Thakur said that country wanted Prime Minister to come clean on who former Law Minister Ashwani Kumar was trying to save. He accused UPA Govt for promoting corrupt people and blamed PM for sheltering them. He termed UPA for most corrupt Govt of the country so far.
BJYM activists were holding placards and shouting slogans started their march from Aurangzeb Road. They were, however, prevented from moving further near Tughlaq Road police station.
BJYM activists also burnt an effigy of the Prime Minister before trying to move towards Race Course Road where prohibitory orders under Section 144 of the CrPC were invoked.
As per information received, BJYM activists clashed with cops and broke one barricade to march ahead but were stopped as police used water canon against them.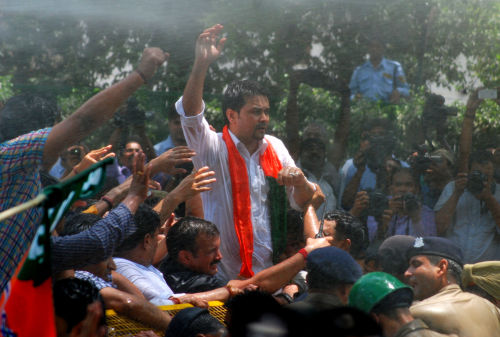 The protesters, including Thakur and other party leaders were detained and taken to Tughlaq Road police station from where they were released later.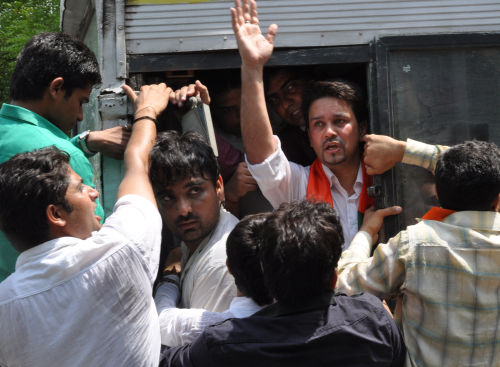 Anticipating the protest, the Race Course Road Metro station near the Prime Minister's residence was closed for public for nearly three hours this morning.