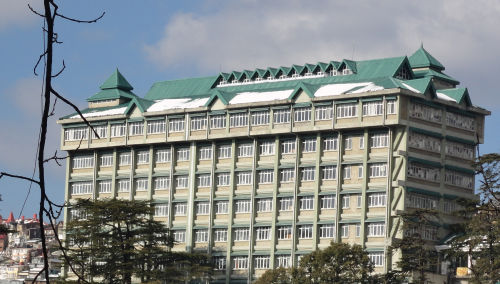 To save Rohtang glacier's fragile eco-system, the Himachal Pradesh high court has directed the state authorities to remove all unauthorized food stalls and dhabas polluting forest areas beyond Marhi on the Manali-Rohtang highway.
Hearing a petition taken up suo motu by the court on the harm caused to the Rohtang glacier by pollution, the High Court bench of Chief Justice A M Khanwilkar and Justice R B Mishra directed the state Govt to observe zero tolerance level with regard to pollution in forest areas beyond Marhi.
The division bench asked the state authorities to ensure that all the unauthorized food stalls and dhabas there were removed in a time-bound period. The court also asked the state tourism department to provide substitute mobile vans that can supply food and drinking items to the tourists. The tourism department and HPTDC were granted time to evolve a comprehensive scheme to ensure that littering in forest area due to the presence of unauthorized food stalls was stopped at the earliest.
Following the court order, the Himachal government called a meeting of its officials and banned setting up of dhabas on the stretch beyond Marhi. Only a valid licence holder who meets the terms of Himachal Pradesh Tourism Development Corporation (HPTDC) can now have a dhaba on the road. Kullu deputy commissioner Sharab Chhopal Negi also held a meeting with SDM Manali, SDM Lahaul, BRO and other officials and ratified the ban on dhabas.