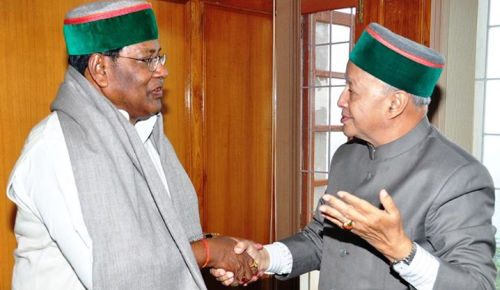 Chairperson, National Commission for Scheduled Tribes, Government of India, Dr. Rameshwar Oraon called on Chief Minister Virbhadra Singh at Shimla and raised various issues pertaining to the welfare of Scheduled Tribes in the State during the meeting.
Chief Minister apprised Dr. Oraon that State Government was implementing various welfare programme and policies for the benefit of tribal people. He said that equitable and balanced development of Tribal area and welfare of Tribal people continues to be the top priority of the Government. He said that Rs. 369 crore were being spent under Tribal Sub-Plan during current fiscal which was about 11 per cent higher than the previous year. He said that the total budget allocation of Rs. 776 crore had been made for tribal areas including the Non-plan allocation during current financial year.
Oraon said that National Commission for Scheduled Tribe, which was set up in February 2004 has working effectively to safeguard the interests of Scheduled Tribes in the Country. He appreciated the various steps being taken for the development and welfare of the Tribal people by the State Government.