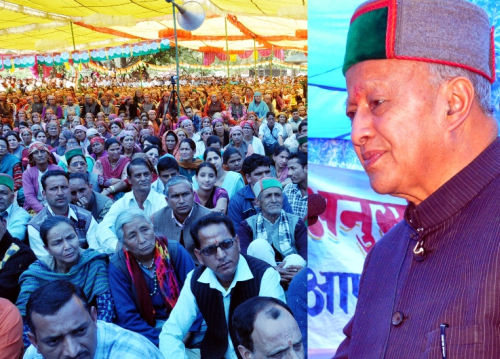 In a meeting of all Secretaries of the State Government, here today, Chief Minister Virbhadra Singh ensured to deploy Doctors and paramedical staff in all health institutions, especially in remote areas of the State to cater to the needs of the people. Like wise all vacant posts of essential services should be filled up on priority to provide better services to the people.
He directed the HPPWD to improve the conditions of all roads in the State, adding that roads were life lines of communication and they be maintained properly with special priority to link remote and interior villages.
Virbhadra Singh directed Secretaries that court cases should be attended without delay and be processed within a week of receipt by the Administrative Departments. He said that Advisory Departments may not take more than seven days in providing opinion in these matters and in case of difference of opinion, the Chief Secretary may call a meeting of Advisory Departments and decide the future course of action with in a weeks time.
Chief Minister directed the departments to regularly review Centrally Sponsored Schemes and ensure 100 percent physical and financial achievements. He said that whenever Administrative Secretaries go to the Delhi on tour, they should pursue their departmental issues with concerned ministries.
Virbhadra Singh said that as the Government had made one Administrative Secretary as in-charge of each District, the concerned district in-charge should also visit the District Headquarter once in fifteen days and also hold video conferences with Deputy Commissioner and Departmental Officers quarterly on major issues of the District. He directed the Secretaries to regularly monitor the progress and also up-date his office about follow up.
Chief Minister said that State Innovation Fund as announced in his budget speech should be made functional within one month. He directed that one additional PCCF should be made District in-charge of each District for monitoring timely clearance of forest cases. He said that Principal Secretary (Forest) should apprise him about the progress in this regard within a week. He directed the Administrative Secretaries to prepare their priority of development works for each month and submit the progress reports to him periodically.
Virbhadra Singh took serious note of news items appearing about people facing problems in getting food items through Public Distribution System (PDS). He directed that Food and Civil Supplies Department to ensure timely supply of PDS items and submit report within a week. He said that it had come to his notice that Lok Mitra Centre owners have approached the court for redressal of their grievances. He directed the IT Department to sort-out this matter so that service providers were not affected.
Chief Minister said that his office had sent references received from different Ministries in Government of India inviting proposals on new schemes or other proposals benefiting the State. He said that all such proposals and matters should be dealt up on priority and no delay would be expected.
Virbhadra Singh said that five per cent of the funds received under State Disaster Relief Fund could be used for purchase of equipments and machinery. He directed the Chief Secretary to look into the matter and find out if these funds can be utilized for purchase of fire tenders.
Chief Secretary S. Roy said that Secretaries were working on implementation of directions of the Chief Minister and efforts were being made to speed up the development works in the State. He assured that all the Departments would achieve their stipulated target within a stipulated timeframe.
Narender Chauhan, Principal Secretary, Public Works Department said that recently Rs. 285 crores have been received under PMGSY and 171 rural roads would be mettled and tarred out of it. He said that Rs. 41 crores had been allocated for procurement of bitumen and possibilities were being explored to purchase sand and concrete construction materials in consultation with other states. He said that work on all announcements of Chief Minister were in progress.
Secretary Health, Ali Raza Rizvi said that school children with critical illness would be treated as designated health institutions free of cost. He said that Department was providing free treatment to all patients coming to Government Institutions and Rs. 35 crore would be spent on providing free medicines during current fiscal. Principal Secretary to Chief Minister V.C. Pharka requested the Secretaries to ensure timely disposal of all public grievances.