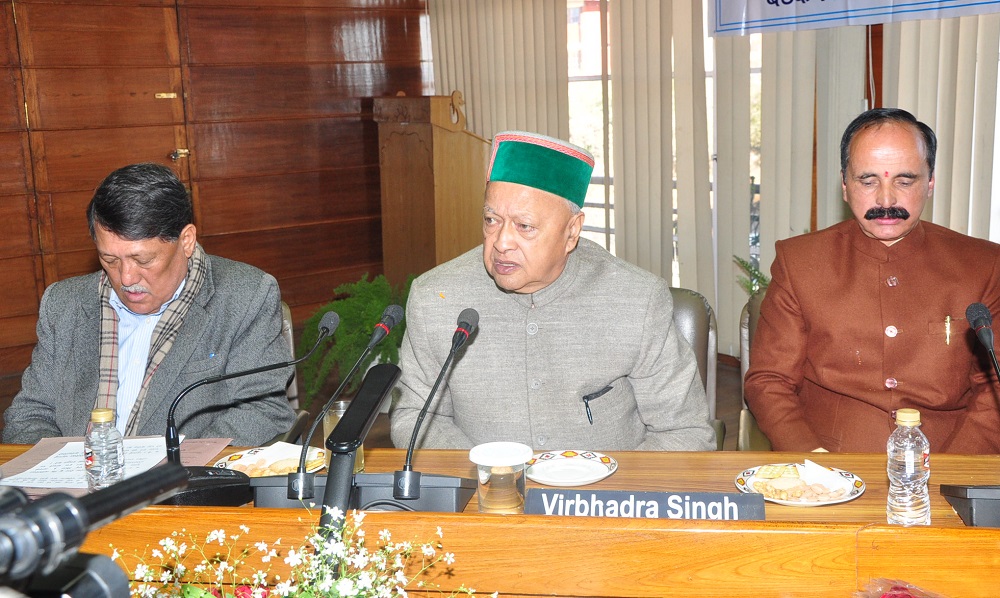 Shimla: Chief Minister Virbhadra Singh today announced that the issues regarding enhancing the retirement age of the employees of the state government to 60 years and providing them benefit of 4-9-14 would be taken up in the state cabinet meeting.
Virbhadra Singh, in a meeting of Joint Consultative Committee of the H.P Non-Gazetted Employees Federation, today also announced Dearness Allowance to the employees due from July, 2016 besides enhancing the Capital Allowance and Tribal Allowance in proportion.
He said the employees were backbone of the government who had been enormously contributing for the development of the State.
While discussing agenda items of the meeting, Chief Secretary V.C Pharka said that the cases of anomalies particularly in Grade Pay should be sent to him through the Secretaries concerned for further examination and redressal. On the issue of qualification bar of 10+2 and one time relaxation in promotion for class-IV employees to the post of clerk, he said an appropriate decision would be taken soon by the government.
The Chief Secretary directed all the departments for expediting the promotion cases so that incumbent could get timely benefit. He also directed that the Recruitment and Promotion rules should be framed after consultation of NGO Associations and these directions must be adhered in letter and spirit. He also directed to expedite the cases of pending enquiries and departmental proceedings on priority basis and submit monthly report to the government on these matters.
As regards the pending Medical Reimbursement and Travel Allowance claims, he said Rs. 5 crore had been released recently for the pensioner's claims. He directed to submit supplementary demand for release of funds for the claims of the other employees. He assured to decide the issue of grade pay to the Horticulture Extension Officers at par with Agriculture Extension Officers.
Pharka also asked the Education department to submit concrete proposal to find permanent solution for restoring 117 posts of Superintendents Grade-I in Education department and joint ministerial cadre in Higher and Elementary Education.
Additional Chief Secretaries Tarun Shridhar, Dr. Shrikant Baldi and Narender Chauhan, Principal Secretary Tarun Kapoor, Secretaries, head of the departments, representatives of District level NGO Associations of various Departments participated in the meeting.