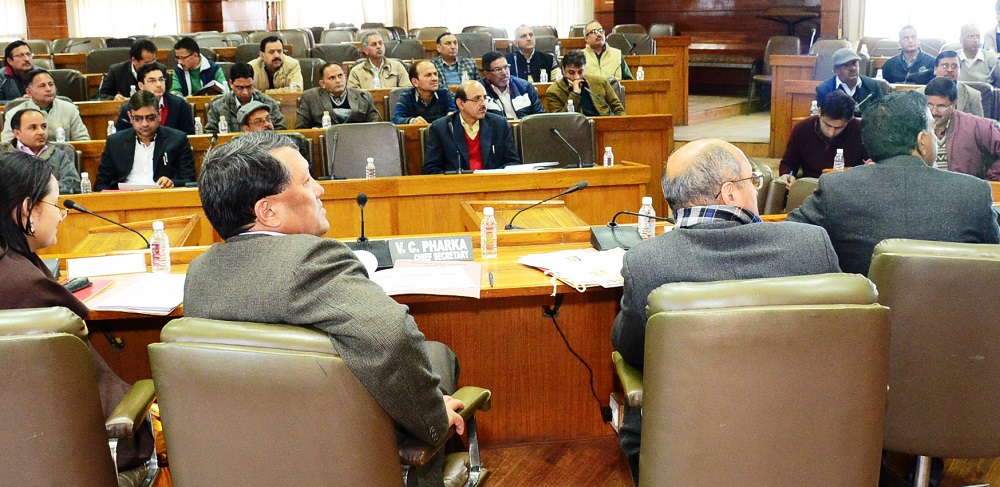 The State Government has prepared a perspective and strategic plan for treatment of 31,12,472 hectare of rain-fed and wasteland amounting to Rs. 4668.71 crore and an amount of Rs 25.66 crore had been spent on watershed during the financial year 2015-16.
Chief Secretary V.C Pharka, in the 8th Meeting of State Level Nodal Agency under Watershed Development Component (WDC) of the Pradhan Mantri Krishi Sinchayee Yojana (PMKSY) today, said the pace and quality of implementation should be enhanced by adopting target oriented approach.
Pharka said the Department should fix quarter-wise targets and the same should be reviewed periodically. He said that since the working season in the state due to geographical condition is limited to 7-8 months and participation of watershed communities also remains inadequate especially in tribal areas, the implementing authority should ensure optimum use of its resources during the working season.
Chief Secretary said that the Department of Rural Development has prepared an Annual Action Plan for Rs 230.61 crore under the Pradhan Mantri Krishi Sinchayee Yojana for the year 2016-17, which has already been posed to Government of India. He said that the Government of India was providing 5 per cent funds for capacity building and training of stakeholders under PMKSY.
Pharka directed the officers to prepare component wise master data of all activities by structured document capturing by adopting scientific approach. He said that the same should be finalized after approval of State Technical Experts Committee constituted for this purpose.
It was informed in the meeting that as many as 163 projects worth Rs 1259.96 crore have been sanctioned for the State. Out of these projects, DPRs of 131 Projects have been prepared and approved by the competent authority.
Additional Chef Secretary Agriculture and Fisheries Arvind Mehta, Secretary Irrigation and Public Health Anuradha Thakur, Director Rural development R. Selvium and other senior officers from Rural Development, Horticulture, Agriculture, Tourism, Irrigation and Public Health, Industries, Forests and Planning Department attended the meeting.