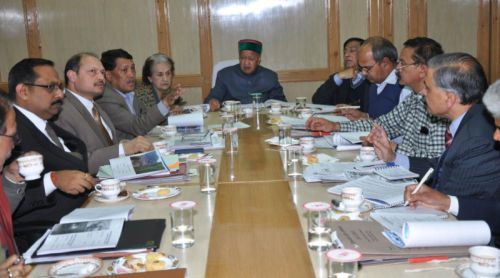 Chief Minister Virbhadra Singh presided over the review meeting of Irrigation and Public Health department, here today. In the meeting, he reiterated State Government commitment to provide adequate and safe drinking water to every household and assured irrigation facilities to the farmers in the State.
Chief Minister said that 2500 habitations will be provided 70 LPCD potable water and 2000 hand pumps would be installed in drought prone habitations during this financial year. He said that over 90 percent families were using tap water and all habitation in the State would get potable water facility by 2017.
He said that the Government would ensure adequate drinking water supply in Shimla town and there was also a proposal for lift water supply scheme to Shimla town from Kol dam reservoir. He said that if approved, it would cater to the needs of around eight lakh population till the year 2047. This would be constructed at an estimated cost of Rs. 515.89 crore with proposed capacity of 68.84 MLD.
Chief Minister said that priority would be given for development of command area to ensure that irrigation potential created converts into real benefits to the farmers. Special emphasis was being laid on minor irrigation and this year 3000 hectare land would be covered under minor irrigation. Besides, 1500 hectares land would be covered under major and medium irrigation he added.
Virbhadra Singh said that directions had been given to prepare detailed project report for construction of Salli to Darni Rirkumar, Hathor kuhl in district Kangra. Channelization of Beas river would be carried out on priority for which model study was being conducted through CWPRS, Pune. He added that sewerage system would be extended for Manali rural area by the end of next year.
He said that ambitious Shahnahar major irrigation and Sidhata medium irrigation projects project in district Kangra would be completed during this year. He said that a provision of Rs. 55 crore had been made for Phina Singh medium irrigation project in Nurpur tehsil of Kangra district whereas Rs. 35 crore would be spent on Nadaun medium irrigation project.
IPH Minister Vidya Stokes all vacant functional posts would be filled up in the department on priority and government had also taken decision to fill up 500 posts of water guards. She said that master plan would be prepared for water conservation which would be integrated with agriculture, horticulture and pisciculture.
Minister said that management and conservation of natural resources was priority of the department to ensure their long term sustainability. She said that 331 water harvesting structures had been completed at a cost of Rs. 16.16 crore with storage capacity of 2.29 cubic meters and work on 291 structures for creating 22.73 lakh cubic meter capacity was in progress.
Chief Secretary S. Roy, Advisor to Chief Minister T.G. Negi, Principal Secretary to Chief Minister V.C. Pharka, Principal Secretary Finance Dr. Shrikant Baldi, Principal Secretary IT P. C. Dhiman, Engineering in Chief R.K. Sharma, Chief Engineers and Senior Officer of I&PH Department were present in the meeting.