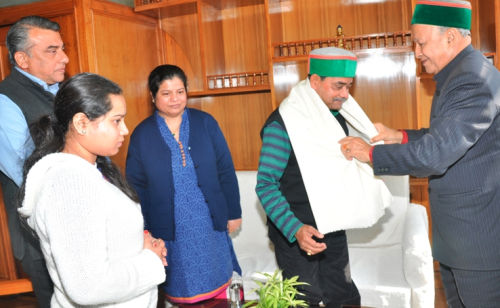 Abhijit Mukherjee, Member of Parliament, and son of the President of India, Pranab Mukherjee met Chief Minister Virbhadra Singh here today. Mukherjee was accompanied by his wife and other family members.
It was a courtesy call. Mukherjee complimented Virbhadra Singh for becoming Chief Minister of Himachal Pradesh for sixth time. He hoped that State would make rapid development under his dynamic leadership.
Chief Minister honoured Mukherjee and his family members with Himachali cap and shawl. Principal Secretary to Chief Minister, V.C. Pharka, Principal Private Secretary to Chief Minister Subhash Ahluwalia and Secretary GAD, Bharat Khera were also present on the occasion.
Abhijit Mukherjee also visited the 180 year old heritage building Barnes Court, now the Governor House here today. He visited the historic Summit Hall where Shimla Agreement was signed between India and Pakistan in 1972 and the Darbar Hall which is the venue for oath taking ceremonies of the Governor, Chief Minister, Chief Justice & Judges of the High Court, Chairmen etc. Shri Mukherjee showed keen interest in the heritage building constructed in Neo-Tudor style and learnt about its historical background. Anita Tegta, Secretary to Governor, RK Gautam, ADM Protocol were also present on the occasion.