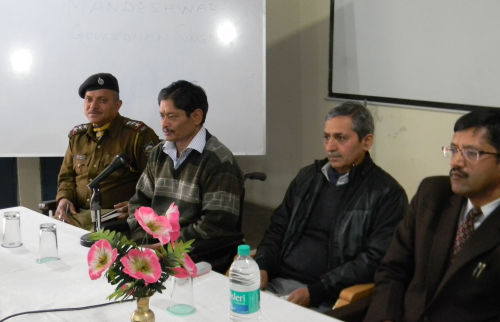 SHIMLA: Concerned over the stress taking a toll in the healthy lives of people, Ashadeep, Shimla based NGO, organized a stress management workshop for the police personnel's here on Saturday at Police lines, Kaithu.
The keynote speaker, Dr. Rakesh Sehgal, a holistic health consultant conducting the workshop apprised the police personnel of the factors relating to stress and provided valuable stress management tips in a capsule form. He prescribed positive thinking, healthy lifestyle, meditation, spirituality and social support as the important stress busters. He iterated that three major aspects sound sleep; exercise and nutrition need to be adhered to religiously. The participants enjoyed the guided meditation directed by Dr. Sehgal. He introduced police people to music therapy also.
Dr. PC Negi, Indira Gandhi Medical College, Head of Cardiology Department addressing the gathering shared his knowledge about stress management and the important aspects for a healthy life style. He underlined the need of combating stress management for a healthy heart. He expressed concern over the youngsters falling prey to the lifestyle changes leading to various cardiac diseases. He also focused on the healthy diet and regular physical activity. Tobacco and tobacco-related products are one of the leading contributors of cardiac diseases. He advised against fast food and underlines their negative impact on health in the long run. He also emphasized that mustered oil and soybean oil are the safest medium of cooking as compared to refined oils.
Inspector Bhikam Ram lauded the efforts of Ashadeep and expressed keenness on more such workshops and also health check-ups like cardio vascular and diabetes. He encouraged the police personnel for adopting the worthwhile tips as mentioned by the health experts. He called upon them to take up healthy dietary habits despite their hectic schedule and work pressure that the police personnel are subjected to and advised them to improve their food habits. Emphasizing the need of overall improvement of physical, mental and spiritual health, he said that the police personnel should take up their jobs not as a burden but as a duty with positive attitude so as to deliver better.
Ashadeep President, Sushil Tanwar, said that considering the fact that even police personals were not also untouched by stressful conditions, Ashadeep had decided to hold such programmes as a series in near future. This being the fourth such programme exclusively for the police personnel for the last two years, said Sushil Tanwar. "We are holding this program as a token of thanks to police force for their untiring effort to keep the society safe and orderly", he said. About 100 police men ranking from constable to Inspector took part in the workshop.