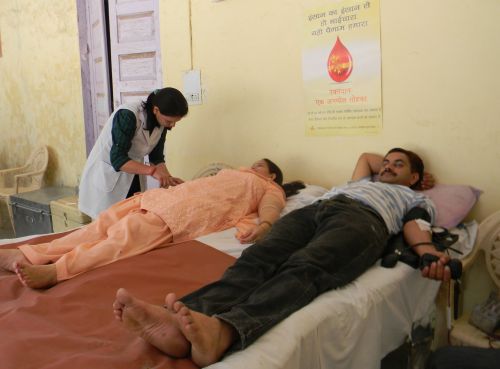 Shimla based NGO, Ashadeep organised a blood donation camp at Arki in which as many as 50 people have donated blood in it. People from nearby places participated in the blood donation camp. Dr. S.L.Sharma inaugurated the camp by lighting the lamp; he lauded the contribution of the Ashadeep for the common wellbeing of the society at large.
The camp was organized with the assistance of team from blood bank, Deen Dayal Upadhaya Hospital, Shimla. The need was felt for organizing the camp considering the shortage of blood and also aimed at spreading awareness amongst the masses particularly the rural masses so that they can also contribute for the noble cause.
Ashadeep President, Sushil Tanwar said, "There is no better service to the society than a blood donation, where it saves many a lives associated with it."
He advocated the need of young people to join the cause so as to spread and strengthen the voluntary blood donation movement.
"The camp was organized with dual objective to mitigate the shortage of blood at the blood banks catering to the patients coming from various parts of the state in Shimla and also to popularize and spread awareness about blood donation amongst the rural masses.
This was the third such blood donation camp organized in the rural area and repeated attempts of holding blood donation showed signs of awareness percolating amongst the rural masses, he revealed.
Seema Sharma Pradhan Arki Nagar Panchyat, Ashadeep in-charge Arki areas Parminder Singh Thakur, Camp co-ordinator Jaya Sharma were also present on the occasion to support for the noble cause. Tanwar revealed that next blood donation camp would be organized at directorate Education, Shimla.