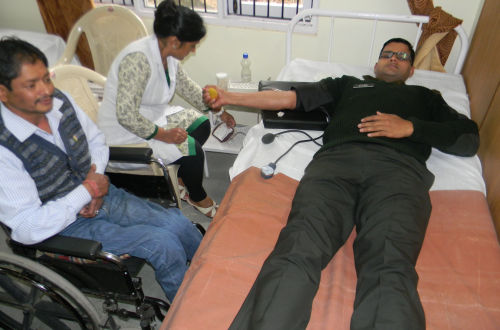 SHIMLA: As many as 30 donated blood at the voluntary blood donation camp organized by Shimla based NGO, Ashadeep in collaboration with "Jatogh cantonment board dispensary" at board's dispensary Jatogh, Shimla.
The blood donation camp was presided over by Chief Executive officer JV Singh. Local residents and cantt. board staff donated blood at the camp.
Lauding the contribution of the Ashadeep for the common wellbeing of the society at large, Singh said that it was the first time in the history of the cantonment board a voluntary blood donation camp was organized in this area.
He emphasized that board is taking many initiatives to promote such social welfare activities as a diabetes awareness and treatment camp was also held in the recent past.Soon a child health check up camp would also be organized in the coming month.
The camp was held with the assistance of team from blood bank of IGMC Shimla. Dr. Shailendra Avasthi of Jutogh dispensary provided the valuable support.
Ashadeep President, Sushil Tanwar said that "the need to organize the camp in the peripheral areas like Jatogh is to inculcate the culture of voluntary blood donation and increase the base of voluntary donors." He further added that there is no better service to the society than a blood donation, where it saves many a lives associated with it.