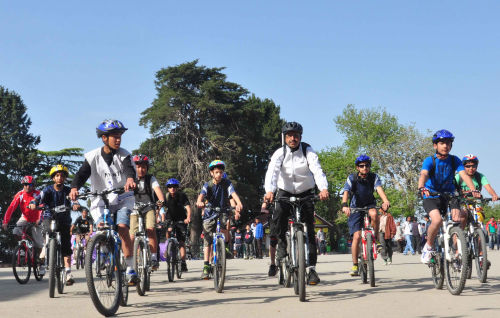 Ashadeep's ICE Shimla organised a cycle rally 'No pain No Gain,' in which as many as 30 cyclists took part along with the volunteers strong support group.
Cyclist wade through the difficult route from Shimla (The Ridge) – Mashobra – Moolkoti – Gumma – Basantpur – Chaba – Palyad – Juni and back via Dhami, Ganhatti, Tutu, Boileauganj, Mall Road and ended at historic Ridge Maidan. Vijay Sen, Ex Ranji Captain flagged off the rally.
ICE Shimla is an initiative for cycle enthusiasts Shimla, which was formed in April 2012 under the aegis of Ashadeep for the promotion of cycling among the local population of Shimla. This would be the fifth ride the club had organized since its inception.
The idea behind it was to provide a non-commercial, amateur platform for the cycle enthusiasts in the region. "Through this we also aim at weaning the youth away from the clutches of self centered virtual world consisted of modern gizmos, devoid of physical activity and direct social interaction", Sushil Tanwar, convener of the club said. "When the participants spend time together outdoors facing hardships and the challenges the situation throws up, solving them with each others' help inculcates the spirit of camaraderie and mutual cooperation," he further added.
The club wishes to attract people who enjoy the challenges of mountain biking and don't mind stepping away from creature comforts for a day or two. It also aims to encourage eco and health friendly mode of local commuting along with reduction in vehicular pollution.
This ride particularly intended to expose club riders to different kinds of tracks, as well as the physical mental rigors that faced mountain bikers over longer tracks than our club had ridden before. We hoped to develop skills and attitude that would enable the youth to explore our hills better with lower dependence on vehicles and support.