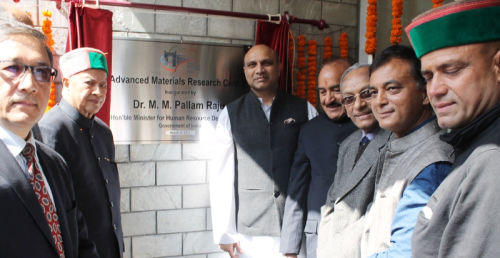 Union Human Resource Development Minister Dr. M.M. Pallam Raju inaugurated the new buildings of Indian Institute of Technology (IIT), Mandi in Kamand Campus. Chief Minister Virbhadra Singh was also present at the function. Chief Minister inaugurated the Prashar Hostel building at Kamand and Dr. M.M. Pallam Raju inaugurated Advanced Materials Research Centre.
Speaking on the occasion, the Chief Minister expressed his gratitude towards Dr. M. M. Pallam Raju for inaugurating the new buildings of the institution. He also remembered former Union Human Resource Development Minister late Shri Arjun Singh, who played a major role in sanctioning of two important higher education institutes for the State along-with Shri Ashok Thakur, Secretary, Ministry of HRD, who put in sincere efforts in presenting the State case in an effective manner.
Virbhadra Singh said that opening of IIT at Mandi and Central University in Kangra district was Congress Government's decisions. He said that Finance Minister P. Chidambaram had made these announcements on 2nd October, 2007 during Gandhi Jayanti celebration rally at historic Ridge in Shimla.
Chief Minister said that IIT, Mandi was becoming synonym with best higher education and it would be among the excellent technical learning institutions of the country. With the creation of new buildings, new facilities would be developed in IIT campus. He said that IIT had been set up at Kamand near Mandi as there was appropriate space.
He said that Himachal Pradesh was thankful to Government of India for providing liberal financial assistance to establish various high education Institutions in the state adding that IIT, NIFT and NIT had been established by the Congress government which were providing world class technical education to the students. Besides, a Central University was also being set up in Kangra district and Government of India had also sanctioned Indian Institute of Information Technology for the State which would be soon established in Una.
Chief Minister said that education sector was among top proprieties of the State government and efforts were being made to provide basic education to every child up to village level while higher education especially technical education was being encouraged in a big way. He said that professional and technical education were in great demand in the present era of IT and Government was giving special impetus to IT and Professional education so that better job opportunities could be made available to the youth in Government and private sector.
Virbhadra Singh announced Rs. 10 crore for widening and improvement of Mandi-Kamand road. He also announced upgradation of High School, Nisu in Kamand to Government Senior Secondary School and Primary Health Centre Kotla to Community Health Centre.
Union Human Resource Development Minister Dr. M.M. Pallam Raju said that IIT Mandi had made great strides and with the inauguration of new campus it had attained the distinction of being the first among the new IITs to have full residential and academic facility in the campus. He thanked the Government of Himachal and people of Mandi for their cooperation in achieving this remarkable feat.
He said that coming up of an IIT in Himachal was a turning point and it was expected to give Himalayan region a world renowned centre for learning, research and innovation. He said that it was a matter of happiness that higher educational institutions were moving towards remote areas where serene environ make this more fruitful and strengthen the economy of rural areas. He said that IIT was much bigger than engineering college as Rs. 800-1000 crore would be spent in coming years.
Union Minister said that there would be no compromise with the quality construction of IIT buildings and infrastructure and Central Government would provide adequate funding and cooperation for it.
Health and Family Welfare Minister, Kaul Singh Thakur thanked the Union Government for setting up IIT at Kamand in Mandi district which happened to be his home assembly segment. He urged the Central Government to provide assistance for widening of Mandi-Kamand road.
Rural Development and Panchayati Raj Minister, Anil Sharma, said that the credit for setting up IIT, ESI Medical College and Hospital at Mandi goes to Central Congress Government and Chief Minister Virbhadra Singh, who had always taken care of the interests of the people of the State.
Secretary, Higher Education, Ministry of Human Resource Development, GoI, Ashok Thakur, said that during his tenure in Ministry eight new IITs were sanctioned and IIT Mandi was one of them. He said that the credit goes to Chief Minister Virbhadra Singh, who choose Kamand in Mandi for setting up this IIT and expressed hope that it would emerge as a pioneer institution.
Chairman, Board of Governors of IIT, Mandi PadamShri, M. Natrajan said that IIT Mandi was among five IITs of the country which were developing innovative applications for low cost 'Akash' Tablet, being given to the students in the country.
Director, IIT Mandi, Prof. Timothy A. Gonsalves, said that vision of the Institute was to be a leader in science and technology education, knowledge creation and innovation in an India marching towards a just, inclusive and sustainable society. Registrar, IIT Mandi, Dr. R.C. Sawhney proposed vote of thanks.
Excise and Taxation Minister Prakash Chaudhary, MLA, Sohan Lal Thakur, former MLA, Tek Chand Dogra, Secretary, Technical Education, K Sanjay Murthy and other senior officers were present on the occasion.