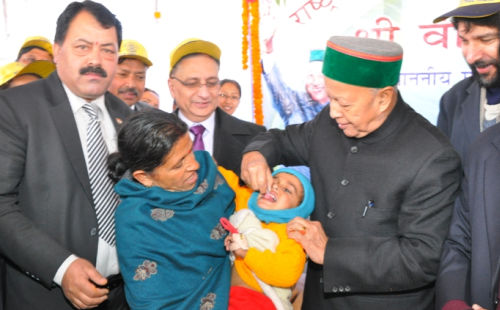 Shimla: Chief Minister Virbhadra Singh launched second phase of Pulse Polio Immunization Campaign by administering polio drops to children here today. He also flagged off 23 mobile vans from historic Ridge Maidan Shimla which will administer polio drops to children in Shimla district.
Virbhadra Singh said that though no polio case had been reported in the State for the last three years but constant vigil and mass awareness campaign must be carried out to completely eradicate this dreaded disease. He said the objective of this campaign was to make Himachal free from polio. He exhorted people of the State to administer polio drops to their children and ensure that every children of the State upto five years of age must be administered polio drops.
Chief Minister said that, this drive would be carried out on 7th April, 2013 in Lahaul-Spiti, Kinnaur districts, Dodra Kwar area of Shimla district and Pangi area of Chamba district as these areas were left out from this campaign due to inclement weather and heavy snowfall.
Chief Minister said that a target had been fixed to administer polio drops to 680679 children and 22627 personnel had been deployed to make this drive successful. As many as 5669 booths had been set up for this purpose.
He said that the children of Gaddi and Gujjar tribes were being administered polio drops at the Forest Check Posts whenever they cross over these Check Posts. Special arrangements had also been made at Temple premises, major tourist destinations, industrial clusters and bus stands for administration of the polio drops.
Chandreshwar Prasad, Chairman, Zila Parishad, Shimla, Tikender Panwar, Deputy Mayor, Municipal Corporation, Shimla, T.G. Negi, Advisor to the Chief Minister, Ali Raza Rizvi, Principal Secretary, Health, Sohan Lal, Ex Mayor, Municipal Corporation, Shimla, Dinesh Malhotra, Deputy Commissioner, Shimla, Abhishek Dullar, S.P., Shimla, Amitabh Awasthi, Mission Director, National Rural Health Mission, Dr. Kulbhushan Sood, Director, Health Services, Dr. R.K. Gupta, Chief Medical Officer, Shimla, Dr. Ramesh Chand, Medical Superintendent, IGMC, Shimla, Dr. Mahesh Jaswal, Medical Officer, Health, Dr. Umesh Bharati, Medical Officer, M.C, Shimla, Devender Bushahari, Prominent Congress leader, Chander Shekhar Sharma, General Secretary, Shimla Rural Congress Committee, other senior leaders, senior officers of the State Government and prominent people of the town were present on the occasion.