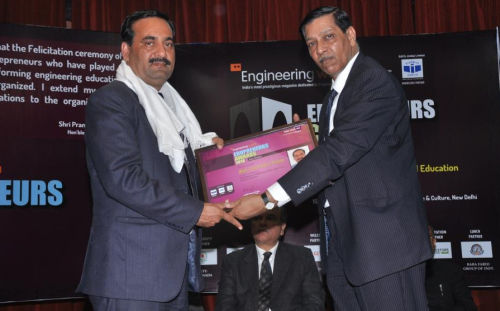 New Delhi: At a ceremony presided over by Shashi Tharoor, Minister for Human Resource Management, the prestigious "National Edupreneurs Award 2013" was conferred on Bahra University Chancellor Gurvinder Singh, for his contribution for establishing collaboration with Industry in Bahra University.
The Jury, which consists Dr. M Moni Deputy Director General, National Informatics Centre Department of Electronics and Information Technology, Ministry of Communications and IT, Prof. Shashi K Dhiman Vice-Chancellor, Himachal Pradesh Technical University, Prof. S. K. Bandopadhyaya Vice-Chancellor, West Bengal University of Technology, Prof. P. B. SHARMA Vice-Chancellor, Delhi Technological University, Sushil Singh Member of Parliament, Government of India, Prof. KL Chopra Indian National Academy of Engineering (INAE), Dr. Sandhya Chintala Executive Director, Sector Skill Council NASSCOM, Dr. R K Khandal Vice-Chancellor, Gautam Buddh Technical University, Vishnu R Dusad Managing Director, Nucleus Software Exports Ltd, Dr. Gita Rawat Joint Secretary, Department of Public Enterprises, Ministry of Heavy Industries & Public Enterprises, Prof RP Yadav Vice-Chancellor, Rajasthan Technical University decided the award in a meeting, which was held at Constitution Club of India, New Delhi.
Gurvinder Singh has been in the field of education for more than a decade. Besides the Bahra University in Himachal Pradesh, he has several campuses in Punjab which give quality education to its students. He said that Bahra University is here to provide quality education for its students. He added that the prestigious "National Edupreneur Award 2013" is a result Bahra University's hard work. He said that providing a quality education and prepares students for the forthcoming challenges is University's sole aim and by introducing many small necessary capsules beside the regular courses to equip them with new skill, University helping students to prepare for the competitive world.
He said that Bahra University is upgrading itself for the future and to give first hand experience of growing new technology and new skills to its students, University regularly exploring oversees premium universities' expertise and offering them to Bahra students by signing a MoU with them.