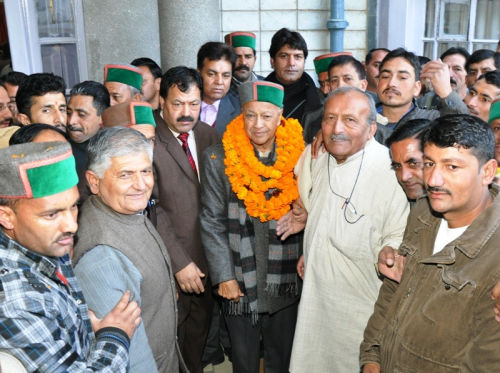 The felicitations of Virbhadra Singh are still pouring-in on his becoming Chief Minister of Himachal Pradesh for a record sixth time. People from different parts of the State are making a beeline to meet him at his Private and Official residence.
The respect, enthusiasm and love of the people can be well imagined from the fact that they start queuing-up at Holly Lodge and Oak-Over with bouquets, trumpets and drums since early morning to meet the Chief Minister. The Chief Minister not only listens to each one of them but also ensures that the demands they put-forth are routed properly for sympathetic consideration.
The Chief Minister in his first meeting with the all the officer's of the State Government had issued direction to them to be committed to their foremost duty of serving the 'Aam Admi' as the Government in the State has identified itself with the cause of common people. The Chief Minister has also underlined his priorities for extending benefits of development to all the sections of the society including the last man in the queue.