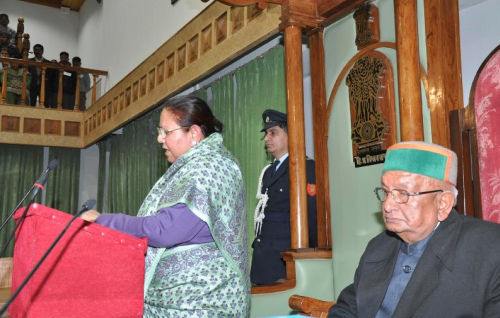 Himachal Pradesh government today promised an "effective, accountable and transparent" administration while according top most priority to overall development.
Addressing the opening day of the winter session of the newly-elected Assembly at Tapovan Dharamshala, Governor Urmila Singh highlighted the priorities of the Virbhadra Singh government.
She said the resolve of the government is to make Himachal a fully developed state in the next five years.
In her address Governor said that the Himachal Government believes that employees are the very backbone of any government. She added that Govt will promote an atmosphere of cordiality in relations with the employees. The victimization of elected representatives and of certain section of the society through Government machinery during the last five years will be stopped and my government will discourage politicization of employees, she added.
She assure to find the quick solution to any genuine grievances and problems of the employees but at the same time, the prime need for maintenance of efficiency and discipline would, under no circumstances, be lost sight of Corruption will not be tolerated in any form and all cases of corruption would be inquired into independently. She added that whosoever found guilty, shall not be spared and shall be proceeded against, as per law. My government shall not act with a feeling of vendetta.
Governor retreated that the Government has adopted the Election Manifesto of the Congress as its policy document and has started its implementation. For promoting and accelerating employment generation, government will, in a phased manner, introduce innovative employment programmes in all sectors of the economy, she added.
She said that the Himachal Pradesh is predominantly horticultural and agricultural economy and means of livelihood of a vast multitude of our population directly depend upon agriculture, horticulture, vegetable production, floriculture, animal husbandry, fisheries and other allied activities. Government will undertake all such measures that go to protect the interests of lakhs of small and marginal farmers. Himachal Pradesh is known as the "Fruit Bowl" of India and my government will give high priority to further promote horticultural sector. Farm diversification, timely and adequate supply of inputs and organization of appropriate marketing and processing measures will be the central themes of farm policy of my government. In further promoting the farm productivity, my government will lay a special emphasis on quick creation of irrigation potential on one hand, and will also promote efficient water use and correct technologies, on the other. Industrial investment will be encouraged by creating investor friendly environment in the State.
She said that the over all development of Himachal Pradesh is the top most priority of Government and are committed to provide clean, effective, accountable and transparent administration to the people of the State. The resolve of the Government is to make Himachal Pradesh a fully developed State during the next five years. She added that Govt is committed to provide economical, corruption free, secular and accountable administration to the people. She added that
Our objective is to bring social and communal harmony besides political stability in the State. Endeavour of Government would be to make available adequate employment opportunities to the youth. Upliftment, honour and security of farmers, fruit growers, women, poor, dalits, minorities and backward classes is duty of the Government. These sections be made active partners in the process of development
Over the safety of women Governor Urmila Singh said that
Women are the integral part of our society. Their safety, welfare and development will be ensured at all levels. Government will ensure full utilization of capabilities of employees, ex-servicemen and other intellectuals so as to build a strong, self-reliant and strong society. Government will ensure active participation of all sections in the process of development
Governor underlines the need of the state and stated that the majority of the population of Himachal Pradesh lives in villages. In order to strengthen rural economy, decentralization of power will be done upto rural level. Top most priority of Government would be to ensure that the benefits of development reach farmers, horticulturists, labourers, unemployed and upto the last man in the society, she added.
She imposes faith in newly elected legislatures and stated that they will work with selfless and tireless devotion in the service of the people of Himachal Pradesh and continuously strive for making this beautiful hill State a model of hill area development.