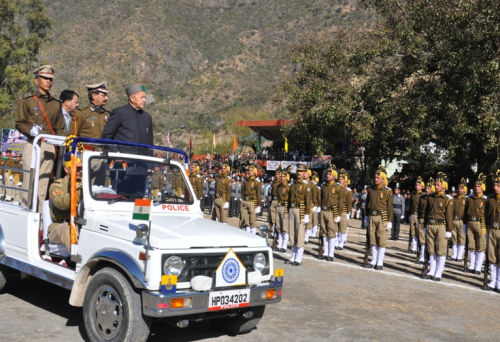 Himachal Pradesh completes 42 years of Statehood today. To celebrate the Himachal day, Govt organised State Level function at Sunni in Shimla district today, where Chief Minister Virbhadra Singh unfurled the National Flag and took salute at march past presented by contingents of IRB, Police, Home Guards, NCC and school children. Rattan Singh Negi, DSP commanded the Parade.
Speaking on the occasion, Virbhadra Singh felicitated the people of the State on Statehood. He said that started from humble beginning in 1971, the State had now emerged a pioneer in development not for hill areas but also amongst other States in the Country. He also expressed gratitude to the great leaders, who overcame various hardships and challenges to ensure that our hill State gets its separate identity and status. Chief Minister said that Dr. Yashwant Singh Parmar, the founder and first Chief Minister of Himachal, who apart from heading the struggle for Statehood, laid a sound foundation for the future development of the State.
On the occasion Chief Minister also made few announcements. Chief Minister announced to provide free travelling facility in HRTC buses to all the students studying in government educational institutions from the next academic session 2013. He also announced to enhance Social Security Pension from Rs. 450 to Rs. 500 per month. He also announced that under Janani Suraksha Yojna free travelling facility will be provided to the mothers and new born baby from hospital to their residence.
Virbhadra Singh announced that a Sub Tehsil would be opened at Dhami to facilitate the people of the area. He also announced to upgrade Primary Health Centre Halog Dhami to Community Health Centre. He announced to construct multipurpose stadium at Katasani near Shimla and ITI would also be opened in Rural Shimla.
Giving added priority to education sector, Chief Minister announced that Science and Commerce streams would be started in the Government College, Sunni. He also announced to upgrade Government Middle School Dabri as High School, Government Primary School, Hyun as Middle School, Government High School, Madukhar as Senior Secondary School, Government High School, Neen as Senior Secondary School. He also announced Rs. 20 lakh for the development of Government Senior Secondary School ground Sunni as stadium.
Virbhadra Singh said that the people of Himachal Pradesh proudly recall and gratefully acknowledge the benevolence of Indira Gandhi, for granting full Statehood to Himachal. Today, Himachal Pradesh and its people have blessings and benevolence of Sonia Gandhi, Chairperson of UPA and Dr Manmohan Singh, Prime Minister of India. Under the leadership of successive Congress Governments at the Centre as well as in the State, Himachal Pradesh has achieved significant milestones in economic growth, infrastructure building, social welfare, agriculture and horticulture. Above all, it has ensured that the benefits of development reach the last person living at the lowest ebb.
Underlining the development of the State, Chief Minister said that during last 42 years, the State has witnessed a sustained socio-economic transformation in almost every sphere of development and a new saga of hill development is being written. Today, Himachal Pradesh is considered as a model of hill area development not only within the country, but has been acclaimed even at international forum. The State has witnessed virtual revolution in literacy and schooling, undergone a demographic transition, improved health services and above all, succeeded in establishing a sound developmental infrastructure, especially in rural areas. This has been achieved despite topographical and climatic constraints, he added.
He stressed that the endeavour of the present Government is to control the problem of fast growing unemployment, check corruption at various levels and complete the ongoing projects within stipulated time frame. He said that the State Government has adopted the Election Manifesto of the Congress Party as its policy document and has already started its implementation to fulfil the promises made to the people in shortest possible time.
Virbhadra Singh said that the main priority of the Government would be to safe-guard the interests of small and marginal farmers. Efforts would be made to enhance the area of land under irrigation in the State by at least 40 per cent in the next five years to reduce the dependence of farmers on rains and ensure increase in crop production. Quality seeds would be provided to the farmers at subsidized rates and cold storage and marketing facilities would be enhanced.
Chief Minister said that the State Government would make efforts to promote and encourage dairy industry in the State in order to strengthen rural economy. Modern milk processing plant would be established in the State and marketing policy would be initiated for ensuring remunerative price for milk.
Virbhadra Singh said that it was the endeavour of the Government to provide safe drinking water facility to every household. Target has been fixed to provide 70 litres drinking water per person per day in the State in comparison to National average of 55 litres per person per day. All the left-out 10,725 habitations out of total 53,201 habitations would be provided safe drinking water during the next five years, he added.
He said that efforts would be made to ensure better Health care facilities to the people at their door steps. Free health care facilities would be provided at all the public health centres in order to ensure health services to all. In addition, free medicines would be provided in all the public health centres in the State. Super specialty medical facilities would be provided at Indira Gandhi Medical College, Shimla and Dr Rajendra Prasad Medical College, Tanda. Tanda Medical College would be brought at par with AIIMS, for which Central assistance would be sought.
Virbhadra Singh said that it would be ensured that all the ongoing hydel projects are completed in time so that both cost and time overruns are avoided and benefits reaped at the earliest. Over the next five years, the State Government would make efforts to generate an additional 5000 MW hydropower. Pollution-free, income generating and employment oriented industrial units would be encouraged in the State to ensure income to State exchequer and employment to local people. He said that a new Industrial Policy would be formulated. Efforts would be made to revive the industrial package of Himachal Pradesh. The benefits of Industrial package would be made available to the industries coming up in remote and interior parts of the State. The State Government would encourage micro, small and medium exporting enterprises by way of export initiatives, he added.
Highlighting the importance of roads in strengthening the economy, Chief Minister said that the Government would construct about 7500 kms of new roads to connect all the villages with population of more than 100 persons during the next five years. For this, a suitable Road Policy would be formulated and the Government would also work on a model framework necessary for construction of new bridges and tunnels and a special Project worth Rs 5000 crore would be introduced in association with the Centre Government.
He said that women are an integral part of our society, and their safety, welfare and development would be ensured at all levels. Anganwari centre would be opened in every village so that the small children and pregnant women would not have to go in other villages.
Virbhadra Singh said that employees are the backbone of any government, and the Government would maintain cordial relations with the employees and victimization of employees would be stopped. The Government would be considerate towards genuine grievances and problems of the employees, but at the same time efficiency and discipline would under no circumstances be lost sight of. Corruption would not be tolerated and all cases of corruption would be inquired into independently. The State Government has decided to frame a New Policy for regularization of PTA and PAT teachers. This decision of the State Government would benefit thousands of teachers serving in the State, he added.
Police dog show and motor cycle display by women constables were the main attractions of the Programme. Colourful cultural programme by the students of various schools and traditional cultural troupes of Kullu, Theog, Mandi and Information and Public Relations Department presented the rich cultural picture of the State.
Mansa Ram, Nand Lal, Mohan Lal Barkta, Anirudh Singh, MLAs, Harsh Mahajan, Chairman, H.P. State Cooperative Bank, Chandreshwar Prasad, Chairman, Zila Parishad, S. Roy, Chief Secretary, I.D. Bhandari, Director General of Police, Sohan Lal, former MLA, Shrawan Dogra, Advocate General, Dinesh Malhotra, Deputy Commissioner and senior officers of the State Government were also present on the occasion. Earlier, Chief Minister was given rousing reception en route to Sunni from Shimla at Baldiyan , Naldehra, Neen, Ghanni, Devidhar and Basantpur.
In the afternoon, Chief Minister, Virbhadra Singh laid the foundation stone of Old Age Home at Basantpur in Shimla district to be constructed at a cost of Rs. 3.66 crore. He announced to upgrade Government High School, Mandodghat to Senior Secondary School on the occasion.