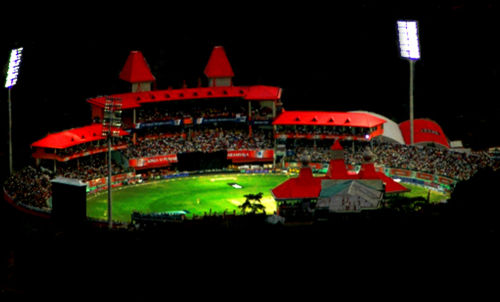 Prior the first international match at the Dharamshala cricket stadium, a controversy has erupted over providing security for the fifth and final ODI between India and England on Jan 27, 2013. Himachal Pradesh Cricket Association (HPCA) officials said that the state police has asked match host to foot the Rs.70 lakh bill for providing security during the match.
HPCA press secretary Mohit Sood confirmed it and said that HPCA has received a letter from the state government asking for Rs.70 lakh. He said that the HPCA has been taking up the issue with the authorities concerned and hoping to sort it out in time. However, Sood condemned the move of state Govt and said
It`s a proud moment for the state to host such a big event. We request the government to provide security and other logistics support to the HPCA for the success of the match, which will bring this hill state on the world map and boost its economy
HPCA is headed by BJP leader and Lok Sabha member from Hamirpur parliamentary and BJP people are looking some political tangle in it and openly saying it as politically motivated. However, local legislator and Town and Country Planning Minister Sudhir Sharma ruled out any political motivation behind it and said that the HPCA is a private body and it has a budget to foot its security bills. He said that HPCA should pay the charges for security which will be used for the development purposes only.
It is not first time when HPCA was questioned for the security fee, even during the IPL matches, controversy was irrupted when information accessed through RTI by Dev Ashish Bhattacharya, showed that state Govt had to bear the security fee to the tune of Rs.2.36 crore for providing security for the five IPL matches held in Dharamsala during the first two IPL seasons in 2010 and 2011. Then opposition Congress had criticised it and asked Dhumal led Govt to incur the security bill from organisers, while Dhumal claimed that such events are good for the state tourism sector as it attracts thousands of tourists to the state.
However, amidst the security bill controversy, the Himachal Pradesh Cricket Association is leaving no stone unturned to host this match. Even HPCA president Anurag Thakur hoping to make Dharamshala as permanent fixture for future international matches and looking to seal the opportunity for the coming time. He said that HPCA 21,600-seating capacity picturesque stadium is all geared up to make it successful and working overtime to get the stadium ready for the match.
Picturesque HPCA Dharamshala stadium, which is surrounded by mighty snow-clad Dhauladhar Ranges, has world-class indoor stadium comprising video analysis facilities for both bowlers and players, world-class multi-gym, a club lounge, restaurant, bar and banquet hall. HPCA venue is also the first in India to use winter rye grass scattered around the outfield, which prevents the grass from dying when temperatures fall below 10 degrees Celsius.
With the other world class facilities, HPCA has built the Pavilion residential complex, which comprised 32 huts made of imported wood and 38 concrete rooms, which will be used for players and other supporting staff.
For this match, hoteliers are also expecting a huge rush as it had received during the IPL matches and to welcome them, the town has 56 registered hotels and guest houses and its nearby McLeodganj, eight kilometres from Dharamsala, has around 91 registered hotels, whereas there are many hotels and guest houses at Naddi, Palampur and other small city surround it.