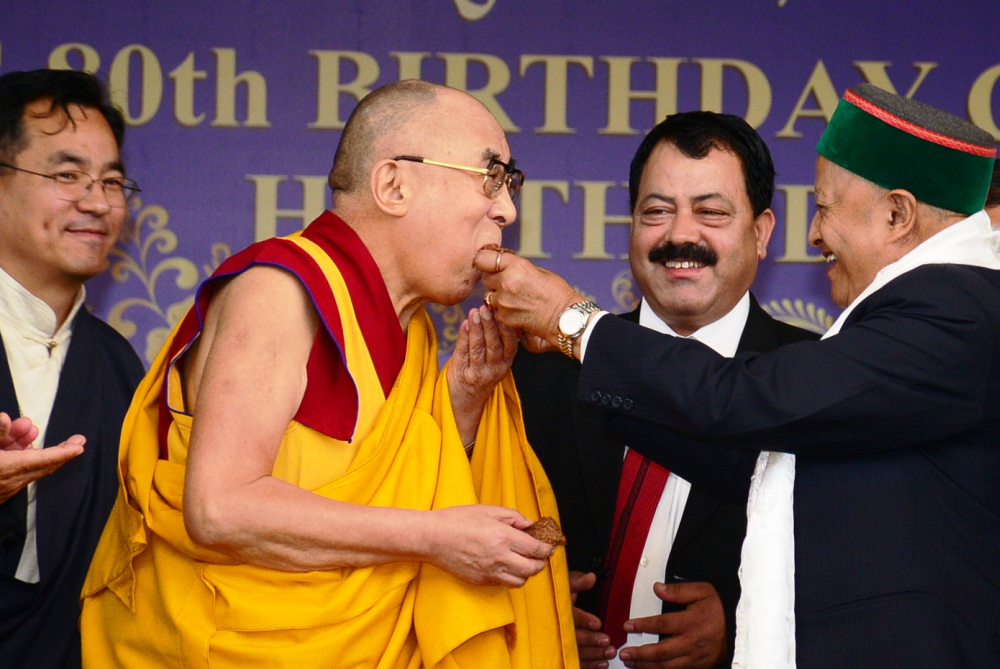 Macleodganj: Tibetan spiritual Leader Dalai Lama celebrated his 80th birthday at his palace at Macleodganj near Dharamsala.
Dalai Lama vowed to continue to work for promotion of religious harmony as thousands of Tibetans and supporters joined the celebrations at the main temple Tsuglakhang at Macleodganj.
Himachal Pradesh Chief Minister Virbhadra Singh today participated in the 80th birthday celebrations of Dalai Lama. He congratulated Tibetan spiritual leader a healthy and long life.
The Chief Minister termed Dalai Lama as a reverend leader, a preacher of peace, tranquility, goodwill for all the Nations. Virbhadra Singh said Dalai Lama was a living example of peace and struggle.
The Chief Minister also accompanied Dalai Lama to the exhibition of biographical Thangka paintings depicting the life and deeds of Dalai Lama.
A mega celebration was organised at the Dalai Lama palace where people from all walks of life including numerous foreign guests also wished Dalai Lama on his birthday.
The Chief Minister and Dalai Lama released biographical Thangka Paintings of 14th Dalai Lama and pictorial biography of the 10th Panchen Lama. Dalai Lama also released a documentary on life of Shri Virbhadra Singh. They also released ten volumes of biographical series on the lives of all Dalai Lama's and a book detailing the biographical Thangka painting on the Prime Minister of Tibetan Government in exile, Lobsang Sangay.
Dalai Lama and Chief Minister also cut the cake on the momentous occasion.
Gerri Dolma, Speaker, Tibetan Parliament, President Central Dhomay Executive Committee, Tenpe Ngodup, President, preparatory Committee, Dr. Khenrab Gyamtso, Cabinet Ministers and senior government officials were present at the occasion.