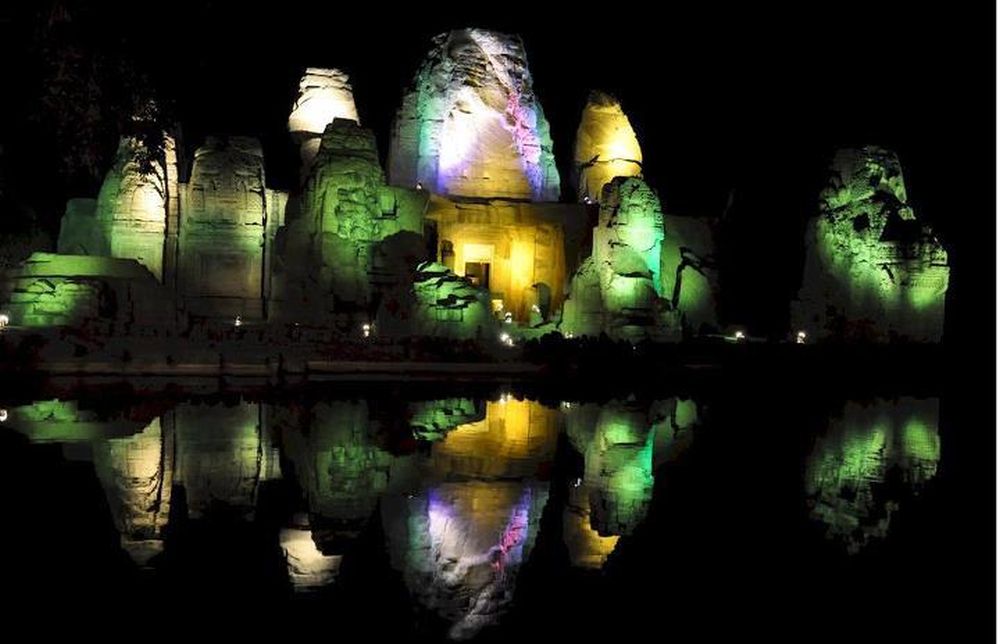 Himachal Pradesh, an Indian state located at foothills of lower Himalayas, has a rich history and complex cultural versatility including religiously relevant traditions and places, like temples. Some of the temples are thousands of years old while others were built by various rulers during their respective regimes that date back to sixth to seventh century. These temples have been subject of research for archeologists and historians, who are still trying and digging deep to find out a clue about their origin.
Masroor Rock Cut Temple is one of the four rock cut temples in India, namely Rathas of Mammalapuram, Kailasa at Ellora, and Dharmanath temple at Dhammar in Rajasthan. It's also known as Ellora of Himachal Pradesh.
Location
This temple complex is located at an elevation of approximately 2,500 feet above the sea level on Nagrota-Surian link road in Masroor or Masrur, about 40 km from the heart of Kangra city in district Kangra, Himachal Pradesh. It's also known as 'Thakurwada (meaning Vaishnavite). It derives its scenic charm due to Dhauladhar Range and Beas River in the backdrop.
History and architectural style
Based on the antiquities found in the temple complex that comprise of a group of rock cut temples, there are as many as 1 monolithic rock cut temples built in the Indo Aryan style, as per the historians suggest based on carving on surface. The shrine contains stone idols/images of Ram, Laxman and Sita.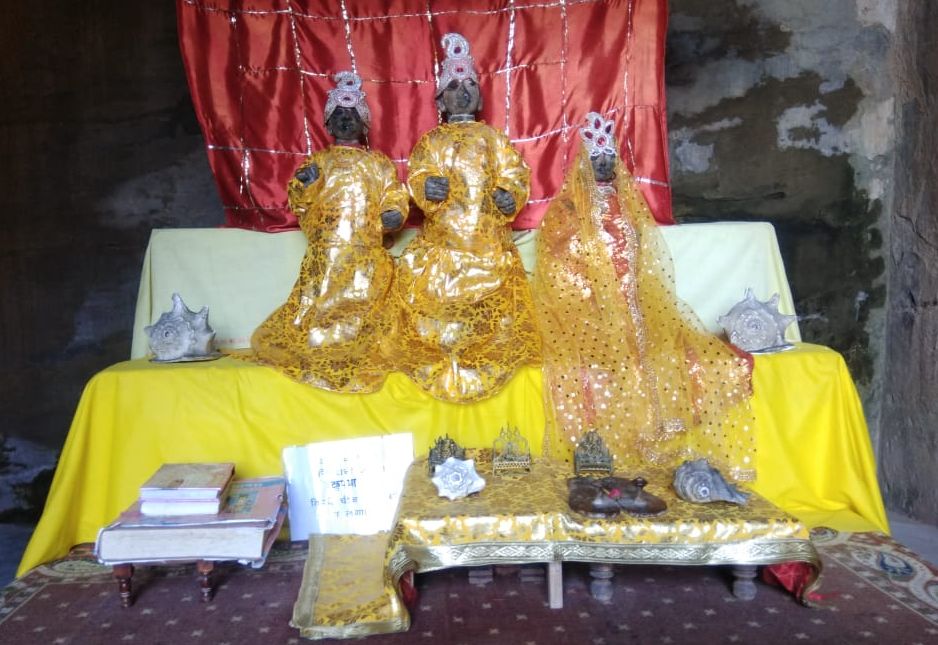 The main shrine features a figure dedicated to Lord Shiva that forms the base of very belief that the temple complex was originally dedicated to 'Mahadeva.'
According to historians, it was built between sixth and seventh century by a ruler of Pallava dynasty, named Narsingha Varman I Mahamalla (630-668). Others argue that it was created later during 12th century. Archaeological Survey of India (ASI) first recorded information about it during 1912-13. Built in Nagara style, it shares features with Gupta classicism and Angor Wat in Cambodia.
Legends
Mythological association suggests that the temple complex was built by Pandvas of the Mahabharata during their exile from their kingdom. The pond also shares a mythological link with Draupadi, the consort of the Pandvas. It is said that the Pandvas had to leave the place before they could complete it because their location was disclosed. However, absence of inscriptions or civilization specific carvings makes it debatable.
When Masroor Temple got attention
The temple complex was first reported by Henry Shuttleworth in 1913 bringing it to the attention of archaeologists. They were independently surveyed by Harold Hargreaves of the Archaeological Survey of India in 1915.
How to reach Masroor Temple

By road
Kangra city is linked to other cities of Himachal and also has a good inter-state connectivity through roads. Regular public transport and cabs are available from stations like Palampur, Pathankot, Jammu, Amritsar and Chandigarh.
By train
The nearest railway link is through narrow gauge Pathankot-Jogindarnagar track (over 165 km). Trains from Pathankoat are easily available without pre-booking. Once you reach Kangra city, you will have to cover another 35 km by a private cab, personal vehicle or public transport to reach Masroor.
By air
The nearest domestic airport, Gaggal, is 13 km from the town. Gaggal is connected to metropolitan cities like New Delhi through flights. From airport, cabs are easily available to reach the city centre and finally Masroor temple complex.
Nearby attractions
Dharamsala: A journey of about 42 km from Masroor will take you to nearby attractions like Dharamsala city. Dharamsala is famous for being the home of his holiness Dalai Lama. It's connected to nearby suburbs like Mcleodganj and Dharamkot. There is a beautiful church of St. John built during British rule in gothic style with a classic tombstone of Lord Elgin dating back to mid-nineteenth century in the backyard.
Kangra: Kangra town is 35 km from here that introduces you to famous temples, churches, monasteries, museums, war memorials, and places of natural beauty.
Palampur: Palampur, also known as the 'Tea Capital of North India' is located about 94 km from the temple courtyard and is full of historic temples and incredible landscapes of the mighty Dhauladhar ranges in backdrop.
Bir Billing: Bir Billing, which is known as one of the world's best paragliding sites and host of paragliding world cup, can be easily visited as it's just 95 km from the temple. If you are an adventure seeker and love flying like a bird in the air, then this place is a must-visit for you.